6 Best CPUs with Integrated Graphics in 2023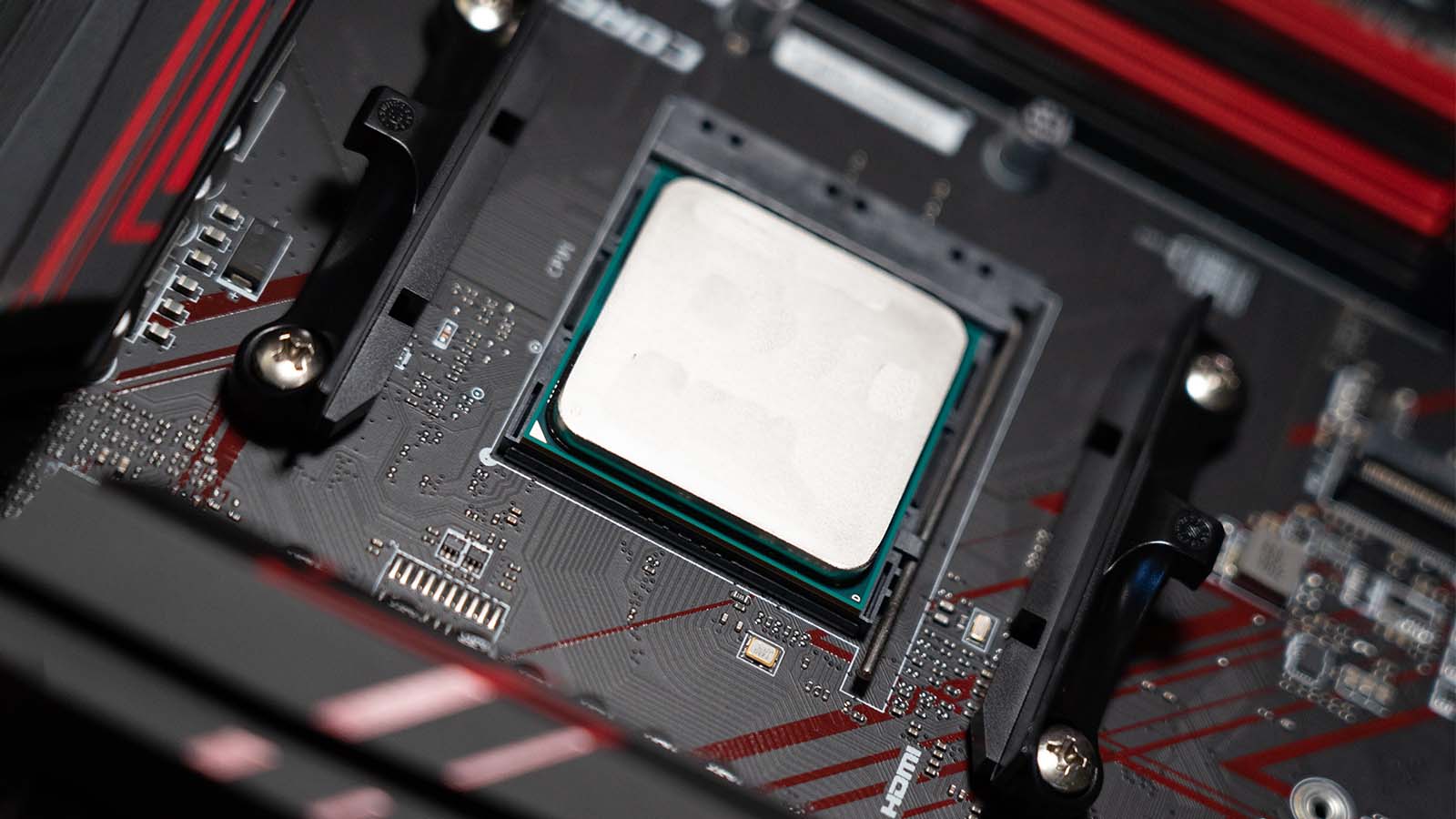 The past couple of years has shown us how, as PC users, we're way too dependent on our graphics cards. AMD even goes so far as to not offer any kind of alternative on its best CPUs. You don't want to be left hanging with a broken GPU & nothing to tide you over until a new one arrives, do you? Then get to know some of the best CPUs with integrated graphics and start building a PC that's both future- and accident-proof!
Best High-End AMD CPU: AMD Ryzen 7 5700G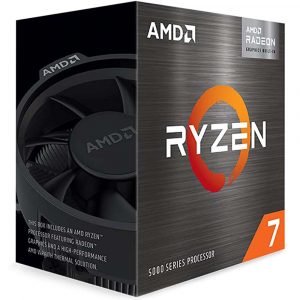 For several generations now, AMD's APUs have been the go-to choice for users not interested in discrete graphics cards. They're miles better than anything Intel can muster in this category, and the Ryzen 7 5700G sits at the top. It's a powerful processor in its own right, and the integrated Vega graphics chip is actually a decent performer for entry-level gaming.
The 5700G is part of AMD's hugely successful Zen 3 generation, yet it and the 5600G don't share its architecture. The two APUs are based on a different kind of monolithic die and codenamed Cezanne as opposed to the regular Vermeer chips. The difference is that all eight cores occupy a single chunk of the CCX and use 16MB of L3 cache instead of Vermeer's 32MB max.
While smaller in size, the centralized cache speeds up communication and lets the CPU run faster. There's also the upgraded memory module, which brings native RAM support to 3200MHz. You can now overclock the RAM to 3600+MHz and reap some benefits too.
The iGPU is the best on the market, yet a bit disappointing as it's still based on the soon-to-be three generations old Vega architecture. Still, the 5700G version has eight unlocked cores and comes with a 350MHz frequency boost over the last gen. Finally, the iGPU is amiable to overclocking. You can get up to a 20% performance increase if you opt to do so.
As for its regular features, the 5700G is an 8-core 16-thread chip that slotted neatly between the 5800X and 5600X before the 5700X came along. Its base clock is 3.8GHz, with the option to boost by 800MHz more. The TDP is a mere 65W, so the Wraith Stealth cooler that comes with it should be up to the challenge unless you frequently stress test for some reason.
The CPU performs as well as expected, whether it's simulating physics in rendering software or encoding video. Only the higher-tier AMD CPUs and the Alder Lake greats surpass it. That is excellent news for anyone looking to combine great computing with decent integrated graphics.
That brings us to the graphics part, which demonstrates just how much iGPUs still need to grow. Again, the 5700G has the best integrated graphics chip on the market, and it's still only on par with a 5yo GTX 1050. Put into perspective, the fact that you can play Cyberpunk 2077 using only a processor is impressive. Still, you'll have to settle for the lowest quality settings at 720p to get playable results.
Conversely, the 5700G is excellent for eSports titles. CS: GO, DOTA 2, Overwatch, and other optimized competitive games will fly at 60+fps in 1080p without you having to slide too many settings all the way left.
Best High-End Intel CPU: Intel Core i5-12600K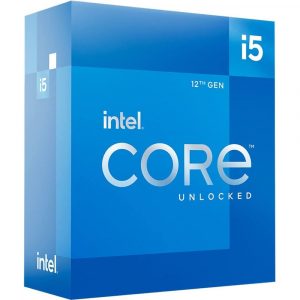 It's much easier to shop for a CPU with integrated graphics if you're on Team Blue since almost all Intel chips come with one. Trouble is, their iGPUs are noticeably worse than AMD's. The newest generation of Integrated graphics brings next to no improvements, and there's little difference between individual tiers. That's why the i5-12600K is the most advanced Intel processor we're comfortable recommending on that basis alone.
There's also a strong case to be made for the non-K i5-12600. Its lack of efficiency cores causes a slight performance hit but means the chip won't have issues with older systems. Intel also bundles it with a cooler, whereas the 12600K doesn't get one. Finally, the iGPU capability is identical, so the 12600's lower price may be enough to entice users who won't be upgrading to dedicated graphics.
After stubbornly releasing several generations of CPUs whose performance gains emerged due to ever-increasing frequencies, Alder Lake marks a shift in perspective. The 12600K is the weakest processor to feature the new Performance & Efficiency core architecture. Still, it presents a significant step up in a segment where four cores and as many threads were the standard not long ago.
The 12600K consists of six Performance and four Efficiency cores. The four latter cores take up as much space as one Performance core yet have the same computational power as a Skylake core used up until recently. The P cores are multithreaded, so the 12600K ends up with 10 cores and 16 threads. You can boost the P cores from 3.7 to 4.9GHz, while the E cores range from 2.8 to 3.6GHz.
Intel doesn't use TDP to refer to its chips' power consumption anymore. Instead, we get a base and a maximum turbo value that denote a CPU's power requirements during standard operation & peak use, respectively. The 12600K's base power draw is 125W, significantly more than the 5600X and 5800X it rivals. There's no cooler to tame it either, so make sure to budget for one.
The 12600K is an excellent example of Intel's continued efforts to catch up to AMD in multithreading performance. It's better at data compression, media encoding, and rendering than all but the best AMD and Intel itself have to offer! It's also an excellent springboard for high-end gaming since there isn't a modern graphics card this CPU will hinder at any resolution.
This brings us to the Achilles' heel of any intel CPU – the integrated graphics. The company rightfully assumes that the vast majority of people who buy their chips will also spend some money on a graphics card. Integrated graphics might be widely available, but its implementation isn't much more than an afterthought.
To be fair, Intel did introduce Xe Graphics on 11th-gen Core processors. Xe marked a significant improvement over previous integrated graphics attempts yet still competes below the level of a paltry GT 1030. What does that mean for the consumer? More than 60fps in optimized eSports and older games coupled with a lackluster experience or downright unplayable framerates at 720p in more demanding games.
Best Mid-range AMD CPU: AMD Ryzen 5 5600G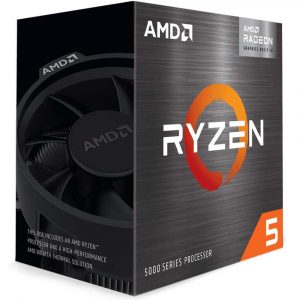 Our second AMD recommendation was released in tandem with the 5700G and shares many of its features. Think of the 5600G as the 5700G light since it's based on the same architecture, only with several disabled components. While that puts it in second place, the price difference is greater than the performance gap.
AMD also released a low-tier Ryzen 3 5300G processor. Unfortunately, you can't get one of those out in the wild unless you buy an entire OEM system. Most PC enthusiasts wouldn't have a use for such a CPU anyway.
In a nutshell – the 5600G is a 5700G with two of its processors and compute cores disabled. Other features, like the die they're based on, power draw, the improved RAM controller, etc., are all identical. There's a slight core clock difference since the 5600G starts at 3.9GHz and boosts to 4.5GHz. That's why we'll spend the next few sections on some of Zen 3's general features.
One noteworthy distinction needs addressing first. The Zen 3 APUs only support PCIe 3.0, whereas the Vermeer chips work with PCIe 4.0 graphics cards and NVMe SSDs. You won't miss out on much since current GPUs barely tap into PCIe 4.0's potential. The generational leap in SSD transfer speeds will bring the most enhancements for users who frequently need to shift large amounts of data from one source to another.
The 5600G benefits from six Zen 3 cores. While the architecture is different, these are still the same cores you'll find on mainline Zen 3 chips. To put it succinctly, they feature improvements in almost every area compared to the 3000-series. They have a larger input volume, compute more efficiently, and communicate faster due to less lag. All of this leads to an almost 20% IPC improvement.
Several rankings put the 5600G just behind the Ryzen 5 5600 and 5600X. It's a mid-range CPU that can handle any productivity task reasonably well. We'd also argue that it's a much better deal than the 5700G if you plan on installing a discrete GPU later on. It's significantly cheaper yet barely bottlenecks modern graphics cards at 1080p in comparison.
The iGPU has two fewer cores and 448 shading units, compared to the 5700G's 512. The impact this has on performance is modest. Games that would run smoothly on the 5700G may dip below 60 or 30fps on this chip. The difference decreases when you shift to 1080p and becomes negligible for undemanding games.
Best Mid-Range Intel CPU: Intel Core i5-12400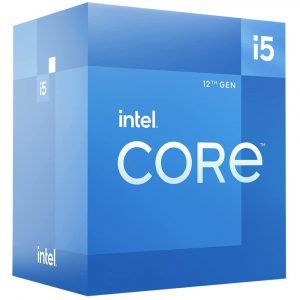 Intel CPUs ending with 400 are a staple among users interested in putting together capable but affordable computers. They were meant mostly for gaming before, but AMD's push for more cores with multithreading resulted in a significant bump for this mainstream CPU. It's in the 5600X's ballpark performance-wise yet significantly cheaper, making for a tempting buy whether you want a graphics card later or not.
The i3-12300 would have been a decent alternative, but it's a niche processor that's become hard to find.
Intel took a more traditional approach to the 12400's core architecture. Rather than fiddle with disabled E cores, the manufacturer chose to base processors starting with the 12600 on a different die. Dubbed H0, the smaller die is only three-quarters the size of the one the first Alder Lake wave is based on. There's no room for E cores on it, and the number of P cores is physically limited to six.
While this comes with a corresponding L3 cache downgrade to 18MB, the design's efficiency reflects well on the 12400's overall capabilities. It also had no impact on PCIe lane distribution. The 12400 supports PCIe 5.0 graphics cards and a PCIe 4.0 NVMe SSD. It runs on DDR4 or DDR5 RAM as well.
Unlike the 12600, this processor has a base power requirement of only 65W, matching the competition. We're even more impressed by the stock cooler Intel ships with it. The company's previous attempts were mediocre at best, so getting a cooler that can do its job properly is a welcome surprise.
The 12400 competes directly with the regular Ryzen 5 5600. Whichever metric you use, the results are a real nail-biter. Sometimes AMD's CPU pulls ahead slightly, while other times, the 12400 ekes out wins of its own. Their 1080p gaming chops are identical, so you can expect smooth sailing with triple digits as soon as you plug a GPU into your PC.
That's something you should do sooner rather than later. The 12400 has a downgraded integrated graphics chip compared to the 12600. That means you'll have to settle for 720p and low settings if you want smooth gameplay from older and optimized games. You can forget about running the latest releases at anything resembling playable framerates, though.
Best Entry-Level AMD GPU: AMD Ryzen 5 4600G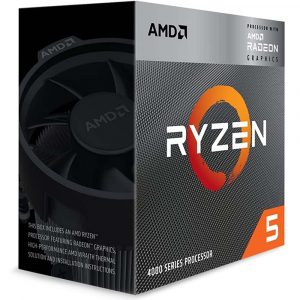 AMD released its 5000-series APUs in the middle of 2021 while the GPU shortage was still in full swing. Interestingly, the 4600G came out in April of 2022, even though it's the weakest of the lot. Team Red must have had some spare Renoir silicone lying around and wanted to load it off onto consumers to make way for Zen 4. Is it worth it for you, though?
The 4000-series is an outlier in the Zen family and has gone largely unnoticed by enthusiasts. It didn't come with many CPUs, and the ones AMD did release were more of a Zen 2 refresh rather than tangible improvements on the 3000-series. Most damningly, they were sold only inside OEMs the PC building crowd usually stays away from.
All of this changed with the release of the 4600G as a standalone CPU. It utilizes the same 7nm manufacturing process as Zen 2, which also means that there are two CCX clusters instead of one. Three cores are enabled on each, for a total of six cores & 12 threads. Their regular working clock is 3.7GHz with the possibility of increasing the frequency to 4.2GHz.
You should consider several things before entertaining the thought of getting the 4600G. First is its small L3 CACHE. At just 8MB, it's four times smaller than on regular Zen 3 CPUs, which will negatively impact its overall capabilities. There's also the chip's price, which equals or exceeds that of the more enticing 5600G.
The 4600G's integrated graphics are among its redeeming features. It uses a Vega 7 iGPU with the same specs & limitations as the 5600G. The 4000-series processor is harder to recommend for future upgrades, though. It has 12 PCIe 3.0 lanes, meaning only eight of them are dedicated to the PCIe x16 slot where your GPU would go.
The difference between PCIe 4.0 and PCIe 3.0 isn't that significant yet. Some games don't care about the x16 vs. x8 distinction, either. However, you could be looking at a 5-10% performance loss in games like Death Stranding, so why limit your future prospects?
Having said all of that, the 4600G is still a solid recommendation for an AMD-based system primarily focused on productivity or schoolwork with decent support for competitive and retro gaming on a budget.
Best Entry-Level Intel CPU: Intel Core i3-12100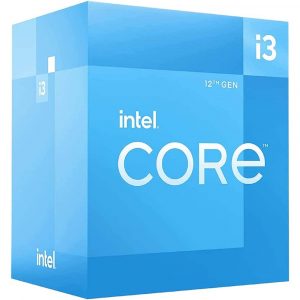 Are you looking to build an excellent productivity or school PC? Want something that will perform well now for a minimal investment you can turn into a bona fide gaming PC later? Then you should base your next computer on the runt of the Alder Lake family, the i3-12100! It's dirt cheap yet absolutely demolishes the competition in terms of value.
The i5-11400 is close enough to be considered an alternative. It's a testament to Intel's innovations that the newer generation's entry-level i3 processor beats it across any benchmark suite. Still, if you can find it at an acceptable price, the 11400 is a good deal since the entry cost for a compatible motherboard is lower.
As was the case with the 5700G vs. 5600G, here we have another case of the downgrades. The H0 die is at the 12100's core, albeit with two of the six P cores out of commission. That still leaves four cores & eight threads with a base clock of 3.3 MHz – 800MHz more than on the 12400. Conversely, the weaker processor's power requirements have dropped to 58W. Expect lower bills and less heat generation as a result.
It might be the weakest Alder Lake has to offer, yet the 12100 is anything but powerless. If anything, it's the chip that most strongly highlights how much of an impact P cores have on the generational uplift. There are four of them, yet it decisively beats the 11400.
Some benchmarks place the i3 part on a level with the 11600! Granted, Rocket lake was one of Intel's more lackluster generations. Even so, being on par with a CPU that stood four tiers above the 12100's Rocket Lake equivalent is certainly impressive.
As you'd expect, the 12100's iGPU shines as a means of getting access to basic graphics. Even though it's the worst-performing, its inclusion makes the most sense due to the processor's most likely use cases. The 12100 came out during the GPU drought's peak and served the vital purpose of giving buyers something to work & lightly game on until things settle down.
They have settled down in the meantime, which is why you should start looking at an affordable GPU to bring out the best in this otherwise excellent chip. Its version of Intel integrated graphics has a 50MHz slower clock speed compared to the 12400's. That's good enough for 60+ frames at the lowest settings in Valorant, and not much else.
Frequently Asked Questions
Is it worth getting a CPU with integrated graphics?
Yes, as long as you know what you need it for & temper your expectations accordingly. AMD is currently the only manufacturer that takes integrated graphics seriously. All Ryzen 4 chips will reportedly feature RDNA2-based iGPUs, which should be another step up from the aging but still comparatively impressive Vega implementations found on current chips.
That being said, AMD themselves treat this inclusion as a measure that ensures anyone who buys a Ryzen chip can start using it immediately. At best, they're all someone looking to harness the power these – or Intel's chips, for that matter – bring. At worst, they're a stopgap measure for someone who's in between GPUs or needs an additional video out for their monitor(s) while diagnosing graphics card issues.
Some of the best desktop CPUs on the market have and will continue to have integrated graphics. That alone makes them worthy of attention.
How much RAM does integrated graphics use?
An iGPU lacks dedicated video memory, so it taps into your RAM. That's why you shouldn't skimp on RAM if you don't plan on buying a graphics card. It's also what makes getting Alder Lake and Zen 4 CPUs less tempting due to their reliance on DDR5, which is still quite expensive.
As for the amount, Windows automatically sets aside 512MB of RAM for video acceleration. Upping this value to 2GB leads to some marginal improvements. Everything above has no discernible effect.
Can integrated graphics run 4K?
If the question asks whether an iGPU can work with a 4K display for ordinary Windows tasks or video consumption, then yes. As you can see from the rundown, even the most advanced integrated graphics present on the Ryzen 7 5700G are only good enough for 1080p gaming. Most games won't run well in 1080p at that, at least not on Medium settings or above.
Only a handful of discrete GPUs have what it takes to max games out at 4K and still run them at 60+ fps. We're still a long way away from iGPUs capable of doing the same. Four to five generations at least, likely more.