6 Best RAM for i7-11700K in 2023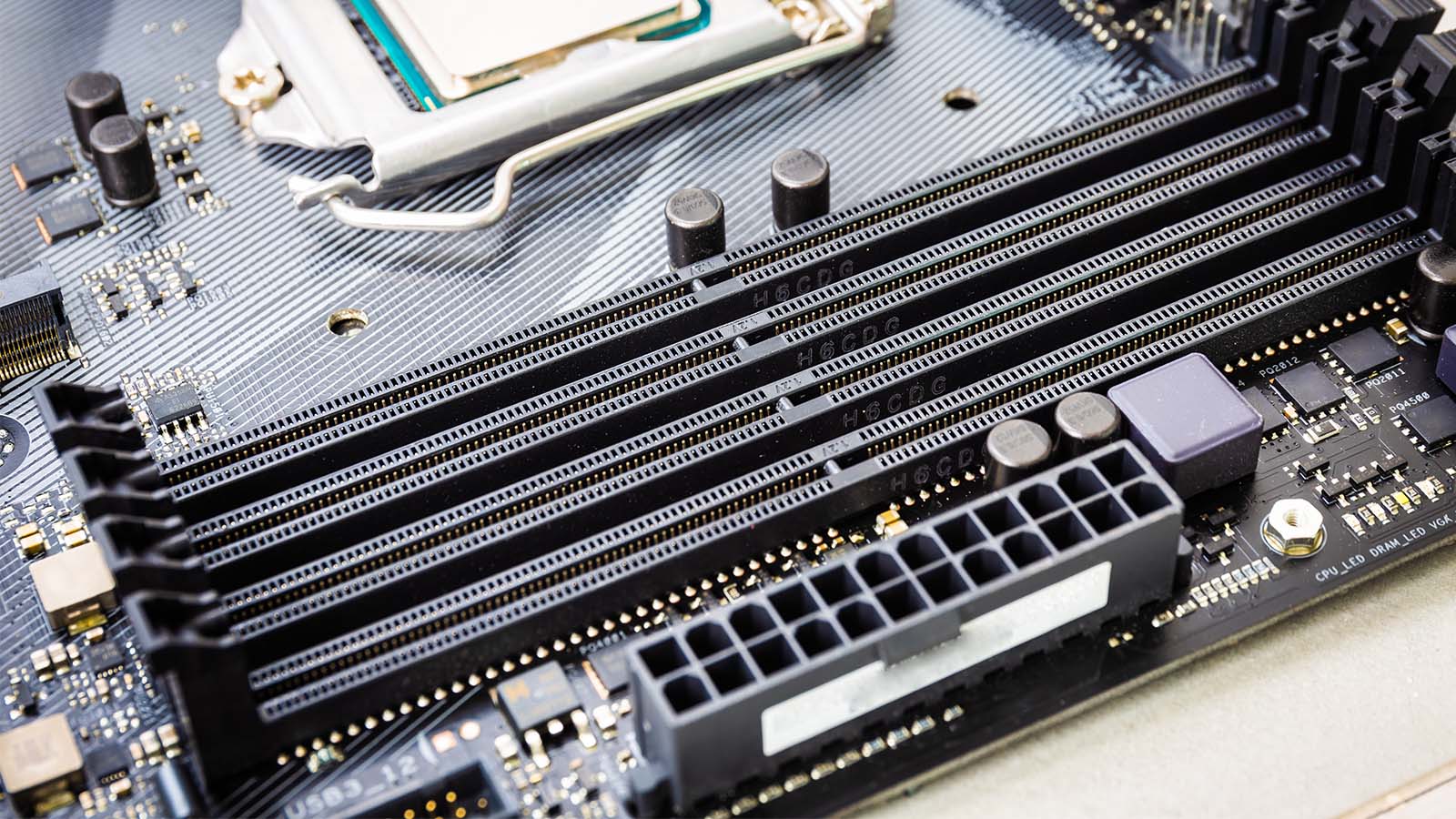 As Alder Lake starts hitting shelves & breaking records, it's a great time to reevaluate last-gen chips like the 11700K. Getting one is still a smart move if you don't want the hassle of paying extra for Z690 motherboards and tracking down the latest memory. There's no shortage of established DDR4 kits, though, and they make up the best RAM for i7-11700K you can get today.
Our list includes six memory kits with idiosyncrasies in speed & latency, size, or extra features like RGB. Any of them will work & play well with the 11700K. All you have to do is pick one that fits your budget and style.
Best High-end RAM for i7-11700K: Acer Predator Apollo RGB 3600MHz 2x8GB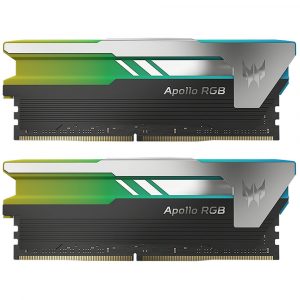 Acer is renowned for a wide range of excellent laptops and not a significant player when RAM is concerned… yet. That will soon change if the Predator Apollo is anything to go by. The memory has a unique aesthetic, sits at the pinnacle of 3600MHz performance, and even has the potential to advance further. Best of all, while it isn't cheap, it's a far cry from the most expensive memory out there.
Such as the Royal version of G.Skill's Trident series or even a tightly-timed variant of Xtreem RAM from TeamGroup.
There's not much history to fall back on, so Acer had the creative freedom to design this kit to stand out from the rest. The undertaking was a success since the silver clasp holding the large diffuser is a unique touch. It blends in well with the black heat spreader & 10-layer PCB and makes the memory an excellent fit for cases of all colors.
Speaking of colors, the diffuser does a great job of blending each DIMM's eight bright LEDs into one smooth whole. You don't get any specific software to control the colors & effects but can always rely on the likes of Aura Sync and RGB Fusion.
While it looks nice, the Predator Apollo RGB's tech specs are what you should consider first. These are brought as close to perfection as a 3600MHz kit permits, pairing said speed with exquisite timings of 14-15-15-35. The voltage needed to achieve this is a somewhat high 1.45V, but it's well within reasonable limits. You might want to check your CPU cooler's clearance before buying since the DIMMs are close to 52mm in height.
How does the Samsung B-die-backed RAM perform in practice? According to Techpowerup, it achieves excellent results when tested for bandwidth and overall gaming performance while keeping pace with faster kits. Rendering isn't its strong suit, but that's not relevant for the majority of users. It's important to note that these results were achieved with the base XMP profile active. You can push the kit beyond that, to 4000MHz, without changing anything else.
Best Mid-range RAM for i7-11700K: G.Skill Trident Z NEO 3600MHz 2x8GB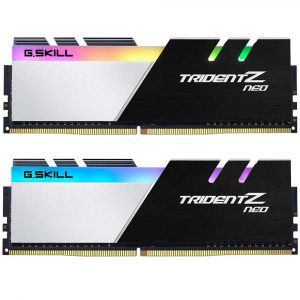 Unlike Acer, G.Skill has been in the RAM game long enough to produce several well-regarded and long-standing lines. The Trident Z is the most prominent among them. It was due for a refresh, and the NEO version hit the shelves and top positions on various performance charts as a result. The particular kit in focus here offers an excellent balance of stats & price accompanied by an eye-catching exterior you'll love to show off.
The Trident Z NEO might have gotten a facelift, but three prongs hugging the diffuser from either side still unmistakably signal its heritage. We love the two tones introduced to the heat spreader. The contrast makes for more visual appeal while also exponentially increasing the number of compatible build styles.
Kudos to the manufacturer for managing to equip the RAM with sizeable diffusers while keeping the height at a manageable 44mm. The LEDs are vibrant and don't experience bleed. You can control them with motherboard software, but G.Skill has its own helpful utility to keep you occupied.
Compared to Acer's RAM, the NEO trades in a slight increase in CAS latency for less power consumption. The frequency is identical, while timings clock in at 16-16-16-36 supported by 1.35V. That's if you remember to activate XMP, or else the kit will default to a measly 2133MHz.
This is purpose-built memory, the purpose being excellent framerates in a variety of games. Rendering in Cinebench is the only metric where the kit falls short. It's only marginally worse than the competition even there. Other benchmarks like Casandra and Corona rendering show that the NEO can pull its weight in more than just gaming.
Best Budget RAM for i7-11700K: Crucial Ballistix RGB 3600MHz 2x8GB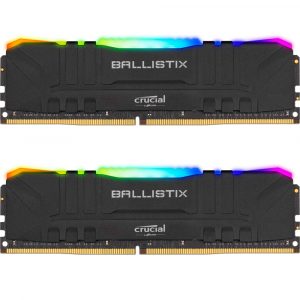 What can less than $100 get you these days memory-wise? Plenty, if you purchase a Ballistix kit from Crucial! Expect a solid frequency with reasonably tight timings. And RGB. And ICs good enough to support further overclocking! We're certainly impressed, and you'll likely be as well if you pair this kit with the 11700K.
Don't mind ditching the RGB in favor of even more savings? Then have a look at the Corsair Vengeance LPX instead.
Were it not for the thin RGB strip on top, Crucial's RAM would look unremarkable. It has a dark-gray heat spreader with stamping here & there to promote better heat management, but that's about it. Things get more interesting once you install the kit and turn the PC on, causing its bright and saturated lights to explode in a rainbow of colors.
That's just the default setting, though. Crucial accompanies the memory with its lightweight MOD program. It lets you intuitively assign colors to each channel and accompany them with a handful of effects. Integration with motherboard software can be iffy but works as intended most of the time.
To no one's surprise, the Ballistix RGB is based on Micron ICs. Crucial's parent company provided its E-die for the job, and the results are more than acceptable. 3600MHz at 16-18-18-38 is nothing to sneeze at, especially since the standard voltage required to maintain it leaves room for improvement. You can push the power draw to 1.5V and remain within safety limits, which allows you to squeeze 133MHz more out of the memory.
Performance relative to price is the best thing about Ballistix RAM. It's the most affordable kit on the list but doesn't fall behind when asked to play games at triple-digit framerates or help perform complex calculations.
Best High-frequency RAM for i7-11700K: Patriot Viper Steel 4400MHz 2x8GB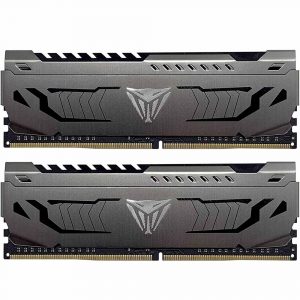 The 11700K thrives on RAM that pushes frequencies to DDR4 extremes. The fastest kits cost a fortune, though, and the diminishing returns aren't worth it. That being said, the Viper Steel from Patriot runs at breakneck speeds yet won't set you back much. It's reliable, performs well under differing conditions, and has a lifetime warranty.
Thermaltake's fastest TOUGHRAM is a similarly well-endowed alternative you should consider if you believe the Viper's lack of RGB is a turnoff.
Serious and ready to pounce on any task you set before it – that's the first impression we get from the Viper Steel! Don't mistake the absence of RGB for lack of style, though. The kit has plenty of it, expressed through several subtle black accents on the otherwise dark gray heat spreader crowned by a silver viper's head.
No RGB also means the kit doesn't need to be taller than 43 mm to achieve optimum heat dissipation. That will come in handy as maintaining 4400MHz with a power draw of 1.45V at 19-19-19-39 is sure to make the PCB warm. Those are excellent results you can't improve upon much. Pushing the clock speed is a no-go, but you may bring the timings down to CL18 with some careful experimentation.
A battery of tests done by Thinkcomputers lets you get a glimpse of the memory's potential. It crushes AIDA64 and Sandra benchmarks, displaying minimal latency and respectable transfer speeds. They didn't follow up with gaming benchmarks. Still, the numbers achieved during artificial testing are a good indication of the kit's ability to excel in other areas.
Best RGB RAM for i7-11700K: Corsair Dominator Platinum RGB 3200MHz 4x8GB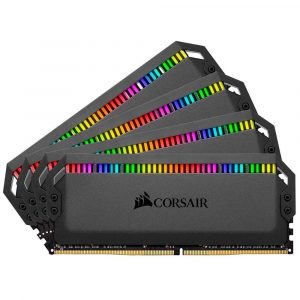 There are so many RGB RAM kits around today that finding high-end memory that doesn't shine with millions of colors is becoming a challenge. Not all RGB memory is created equal either – most companies go with the flow while only a few innovate. Such is the case with Corsair and the Dominator Platinum RGB line. It combines cutting-edge LEDs with exceptional overclocking potential. You'll have to save up to get some, but the appeal will be worth it for many.
We've already mentioned Teamgroup's memory, so the XPG Spectrix D60G from Adata remains the only other kit that's both innovative and a pleasure to look at.
Earlier Dominator modules struck an imposing figure with their heavily armored and taller-than-average heat spreaders. The new RGB units retain the distinctive geometric shape and a problematic height of 55mm but are much slimmer. Even so, the aluminum spreaders are no less efficient and arrive in a choice of white or black. We're fond of the former since it has added panache in the form of brass-colored screws.
There's no shame in going for the most bling in this case, as the Dominator Platinum RGB is a true leader in the field. What's so special about it? The Capellix LEDs of Corsair's own design. This proprietary lighting tech allows for LEDs that take up a fraction of an ordinary diode's space while putting out a brighter, more vivid light. Moreover, the lights have decreased power consumption and don't depend on large-scale diffusers for an even spread. The resulting effect looks like nothing else out there and is beautiful to behold.
You're paying a pretty penny for lighting, but that doesn't mean the kit doesn't deliver in other areas. True, the XMP profile's 3200MHz and 16-18-18-38 timings aren't noteworthy even though no more than 1.35V is required to maintain them. However, you can easily overclock the memory by another 400MHz and gain a decent speed boost as a result.
A comprehensive array of tests sees Corsair's RAM stay close to or overtake the competition with reassuring consistency. You can be sure it will perform more than adequately whether you're crunching numbers, rendering images, or lining up headshots.
Best 32GB RAM Kit for i7-11700K: Corsair Vengeance RGB Pro SL 3600MHz 4x8GB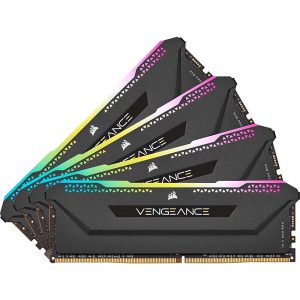 Corsair's second kit in our guide packs enough memory for years of gaming to come. It's sure to be appreciated by gamers who also work with video files or 3D models, as 32GB is necessary for such tasks now. Whatever your need, prepare for the Vengeance RGB Pro SL to accomplish it with style and efficiency.
There are some superficial similarities with the Dominator kit, but the Pro SL holds its own in terms of aesthetics. The biggest bonus comes with its size reduction as the sticks are 11mm shorter and don't cause clearance problems. They also feature an intricate triangular mesh design near the diffuser that breaks up the otherwise solid aluminum heat spreader.
It isn't Capellix, but the lighting is still among the best in the business. Ten bright LEDs grace each of the four 8GB DIMMs, making for a dazzling display. Corsair gives you great control in RAM lighting customization by including it in the acclaimed iCUE utility. Choices abound whether you want to use one of the preinstalled effects or tweak each of the forty LEDs by hand.
The possibility of tweaking also applies to the RAM's internal workings. You start out with 3600MHz at an uninspired 18-22-22-42and standard voltage. However, the Samsung B-die ICs are built to push further. Lowering the CAS latency to CL19 and a voltage increase of 0.1V are acceptable concessions that result in the memory hitting 4000MHz.
Pitting Corsair's memory against faster and slower kits alike allows you to assess just how well it performs. It trades blows with kits that run natively at 4000MHz, either matching them in gaming or reporting a difference of one to five fps across a range of titles. Investing in 32GB will prove beneficial for tasks like video encoding, for which you can expect equally satisfying results.
Frequently Asked Questions
How much RAM do I need for i7 11700K?
The amount of RAM you'll want to purchase alongside the 11700K depends on what you plan on doing most with the CPU. While multithreaded performance has seen a sizeable increase, the 11700K remains a thoroughbred gaming processor. As such, it won't require more than 16GB of RAM to run any current title or ones slotted to release in the near future.
More RAM would be advisable if this is to be your long-term gaming CPU. It might be a good idea to hold off on buying, though, as the introduction and spread of DDR5 could cause prices to drop. You'll want at least 32GB right now for more resource-intensive tasks like video production, 3D modeling, or maintaining several virtual machines simultaneously.
What RAM goes with Intel? Is 3200MHz RAM good for Intel i7?
Memory manufacturers like to advertise this or that kit to be "optimized" for a specific platform. This holds some truth for Ryzen chips since they work best with RAM whose frequency is in line with the multiplier. That doesn't apply to Intel, though. As long as you go fot DDR4 and the motherboard supports it, you can use any kit with the 11700K regardless of frequency.
3200MHz RAM is decent for a processor like the 11700K, but bigger is better in Intel's case. You'll get the best results by going for a combination of high frequency and low latency. That being said, better stats don't always translate into real games, especially for gaming.
What does CAS latency mean for RAM?
CAS latency is a measure of the memory's ability to retrieve information the CPU requests. It is expressed in cycles, so a stick with CL14 takes two cycles less to complete a task than one with CL16 if the frequency is equal. Things get more complex as the gap in frequency and latency grows. For example, a kit running at 3600MHz CL14 will come close to or outperform one that's clocked 400MHz higher but only has a CAS latency of 20.