6 Best CPU Coolers for i9-10850K in 2023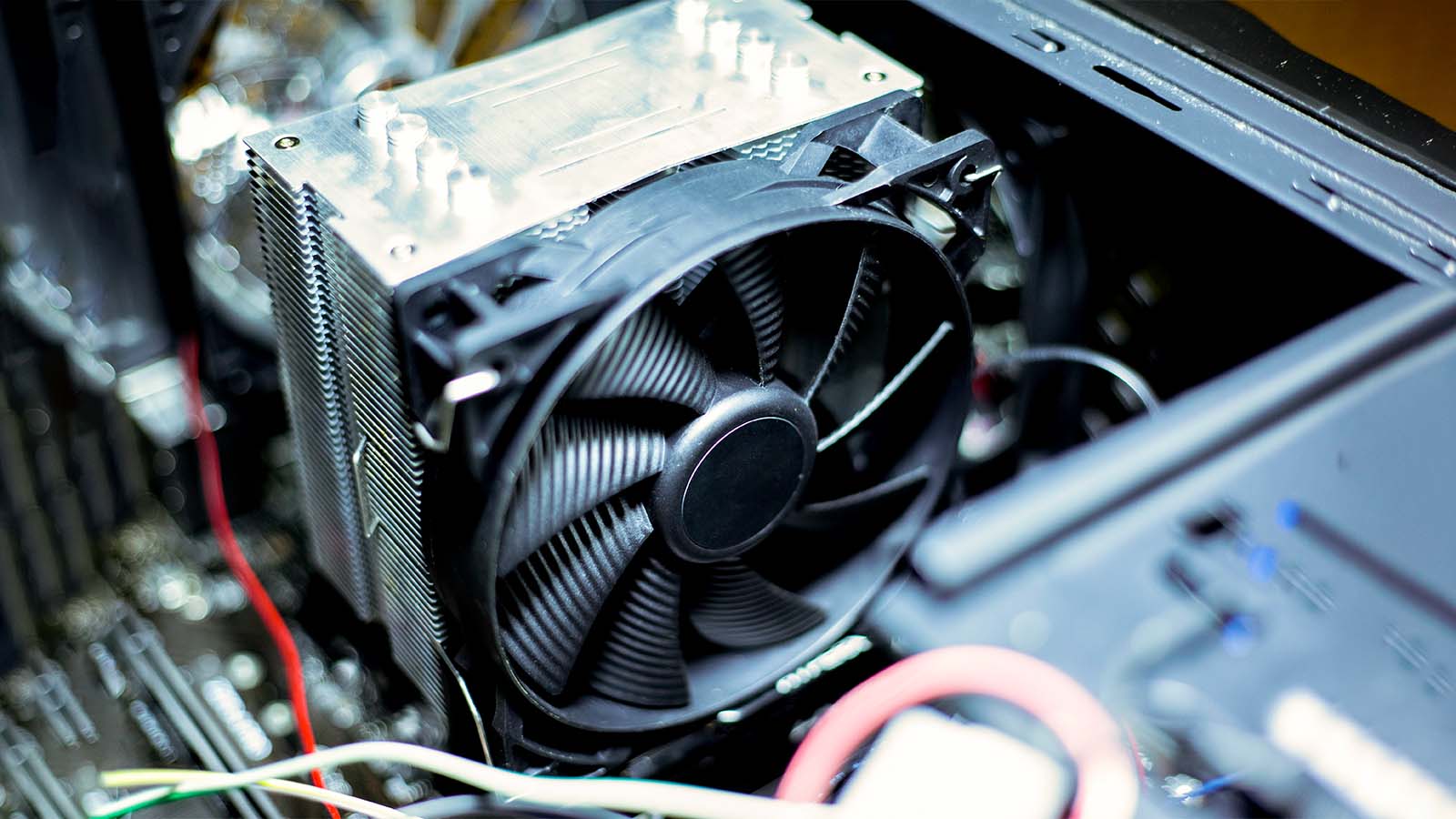 Enthusiasts looking to push the boundary of desktop computing were left disappointed with top-end Rocket Lake and its lack of tangible improvement over the 10th-gen Core series. That means the i9-10900K is still Team Blue's champion, but it's also hard to find at reasonable prices. The 10850K, on the other hand, has become popular due to achieving identical real-world results while costing considerably less.
Being on equal footing with Intel's best processor means that the 10850K can reach furnace-like heat levels when overclocked. It poses a challenge to most air-cooling solutions, even at stock clocks. You'll want to pull out all the stops to get the most out of your high-powered chip, and our guide on the best CPU coolers for i9-10850K is here to help. Air or water, performance or stealth; we've explored the options and shed light on top recommendations to help you make an informed decision.
Best High-end AIO for i9-10850K: NZXT Kraken X73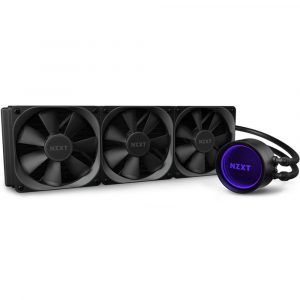 The 10850K is a 10900K in disguise, making it one of the best and hottest currently available desktop CPUs. What better way to quench the thirst of such a beastly processor than to pair it with an AIO cooler worthy of the sea monster in its name? A Kraken is the way to go if nothing matters to you more than pushing the CPU to its limit while maintaining impressively low temperatures.
NZXT is its own competitor, offering RGB versions of this model as well as the Z73 that comes with a useful LCD on the head unit. The competition is fierce, too, with models like the Thermaltake Floe DX and EK-MLC 360 also vying for your attention.
The Kraken's barebones version is less expensive than the one featuring three RGB-rimmed fans, but it does its main job just as well. True, the three AER P120 fans are boring with their gray fins set against the black radiator. However, everything is made from high-grade materials, and the fans have above-average specs. They spin from 300 to 2,000 RPM, and each delivers an airflow of 73 CFM or Cubic Feet per Minute.
The radiator has a standard thickness of 27mm and is home to a dense cluster of aluminum fins. Mounting the fans to it is easy, and you can set them up to either push or pull the air, depending on your case's setup. The radiator connects to the head unit through top-tier sleeved tubes that end with 90-degree swivel heads on the head unit part, ensuring maximum flexibility without strain.
Assembling the Kraken X73 is a straightforward affair since the pump already has an Intel bracket & some thermal compound. It's connected to the radiator via tubes. All you need to do is attach it to the CPU, screw the fans in, and secure a 10-pin power cable to the pump on one end and the three of your mobo's headers on the other. The fans use a separate PWM connector. Once on, the AIO attracts with an infinity mirror and ring LED combo that makes the pump look like it's impossibly deep.
The X73 is all about maintaining your CPU's cool. It does so with aplomb, keeping the comparable i9-9900K in the 50-60°C range even when it's close to hitting its limit. Remember that running the pump and fans at or near their maximum RPM results in more noise as they venture well into the 40-50dB range. Fortunately, you have a lot of thermal headroom to lower their speeds at the cost of a few extra degrees.
Best Mid-range AIO for i9-10850K: Corsair iCUE H115i RGB Pro XT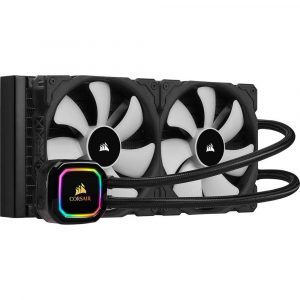 Telling one Corsair AIO apart from another is increasingly becoming challenging as the company keeps releasing similar ones. That being said, the newest H115i version stands out on account of being easy to install, performing well with overclocked processors, and coming in at a reasonable price to boot. Add excellent companion software for RGB lovers, and you've got a well-rounded product overclockers shouldn't miss.
The Enermax Liqmax III 360 comes with a larger radiator. It does almost as well while being slightly cheaper, so check it out if our main recommendation isn't available. Conversely, Lian Li's Galahad 240 has a smaller radiator but keeps up with the others just fine.
Hastily judging the H115i RGB Pro XT based on the radiator would falsely dismiss it as plain. The assembly is functional, occupying typical dimensions for a 280mm unit and with standard-density aluminum fins. Two seven-bladed fans attach to it, each with an RPM range of 300 to 2,000 and a CFM output approaching 100. You may even set them up to turn off completely while the CPU is idle and under a minimum temp threshold.
Things get more interesting when you examine the tubes and head unit. The tubes are reasonably flexible, 13.8 inches long, and braided, so there's plenty of room for adjustments during installation. The head unit's machined copper surface attaches to the processor and comes with pre-applied thermal paste. It also houses the Corsair logo and sixteen bright LEDs with a vivid adjustable glow.
There's not much to the installation other than you can complete it quickly and get an in-depth manual for guidance. Once the physical part is complete, you can use iCUE to set each LED's color individually or sync the lighting with other Corsair products. iCUE isn't a one-trick pony since it also allows you to monitor speeds & temperatures or set up custom fan curves.
Most importantly, the H115i acts as cool as its lighting looks. Guru3D tested it with an i9-9900K, performing temperature measurements, and even overclocking the notoriously hot CPU to 5GHz. The AIO did well in both tests. It demonstrated low noise levels and tolerable temperatures where many competitors would struggle or downright throttle the chip.
Best Budget AIO for i9-10850K: ARCTIC Liquid Freezer II 280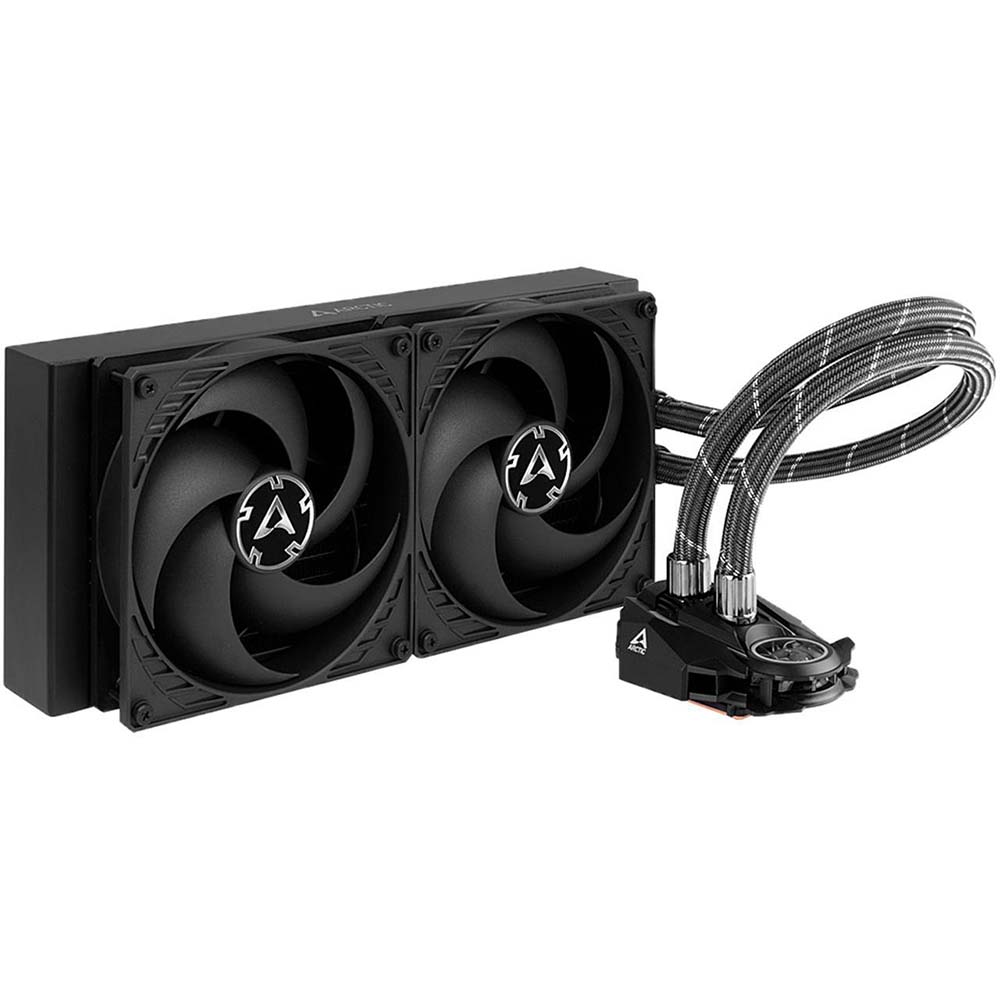 The basic AIO formula works but can become dull, which is why we're always glad to see that a company like Arctic isn't afraid to experiment. The second attempt at the Liquid Freezer is a resounding success, offering excellent heat mitigation for your CPU and surrounding components at a bargain price. RGB lovers are out of luck, but everyone else is in for a treat.
You'll love the MasterLiquid ML360 from Cooler Master if you're looking for an even cheaper alternative that features a mirrored RGB pump similar to the Kraken's and a longer radiator with three fans.
Unorthodox in more ways than one is the perfect way to describe the Liquid Freezer II 280. Its pump has a unique design with lots of extra plastic and a 40mmfan in the front. This spins from 1,000 to 3,000 RPM and helps cool the VRM. A square copper plate with a sanded appearance is underneath, another departure from the predominantly round cold plates you'll encounter elsewhere.
Even the traditionally monotonous radiator is intriguing. It is 11mm thicker than most, offering more space for a similar amount of fins you'd encounter in a standard model. This leads to improved airflow and better overall temperatures. Not everything can be unique, as the ARCTIC P14 fans are rather ordinary but effective 140mm units. They have the potential to be quiet at 200 RPM but can deliver 72 CFM each when ramped up to 1.700.
Kudos to Arctic for making the AIO's installation so smooth. There's almost no cable management involved since all the fans are connected to a single header. That makes monitoring each individually tricky, but it has no bearing on your ability to control their curves.
Impressive overall results are the best thing about the Liquid Freezer II. The small fan seems to be pulling its weight since the CPU remains reasonably temperate even when you're overclocking. Better yet, pushing the AIO doesn't result in excessive noise levels.
Best High-end Air Cooler for i9-10850K: Noctua NH-D15S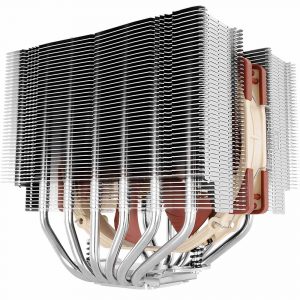 Noctua might as well be another word for CPU air cooling excellence. After all, no other company makes a habit of designing coolers that are still relevant more than five years after release, like the one we're reviewing here. It's based on the original NH-D15 but smaller, allowing for the use of the first PCIe x16 slot and better RAM clearance on ATX motherboards. Luckily, its cooling performance is every bit as outstanding.
The NH-D15 is our winner's biggest competitor but a situational buy for users with eATX motherboards. Get one only if you're sure there's enough room left over to use the top GPU slot.
Going against the grain, Noctua sticks to its iconic brown and beige color scheme for the cooler's single fan. It's tucked away in the middle, so it isn't as prominent. If the unique color scheme bothers you, there's always the all-black Chromax version for a couple of bucks extra. Both feature the excellent NF-A15 PWM 140mm fan capable of putting out a staggering 140 CFM at 1,500 RPM. You also get a low noise adapter that lowers the RPM to 1,200 for quieter operation.
Looking at the heatsink makes clear the primary difference between the NH-D15S and the original. Its fins are offset to the right, meaning that the entire assembly moves away from the PCIe x16 area and provides much better compatibility for GPUs. Several of the bottom fins are also cut to fit tall RAM better. Attention to detail like the milled base and symmetrical copper pipe pattern remains unchanged.
Setting the cooler up is a breeze. The Intel backplate layout hasn't changed in years, and it comes with four preinstalled screws to make the job easier. You just have to isolate the spacers, secure the two brackets, and screw the heatsink into them. The fan comes last and is held firmly in place by a pair of clamps. The assembled cooler is still massive, but it's noticeably more elegant and space-conscious than the NH-D15.
The 10850K can get pretty hot, but it's nothing this cooler can't handle. Idle and load temperatures align with what you can expect from mid-tier water coolers, meaning its performance is commendable. You'll find quieter coolers, but the noise it puts out is more than tolerable, especially if other system fans are also stressed.
Best Silent Air Cooler for i9-10850K: be quiet! Dark Rock Pro 4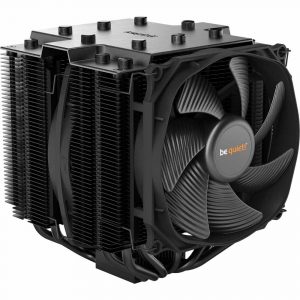 Most coolers you use with an overclocked 10850K will be running at or close to 100% fan speed, and that's rarely a quiet experience. Unless you go with a fan from the company so confident in its offerings that it has quiet in the name. It might be massive, but the newest Dark Rock model has all it takes to keep your rig cool while not standing out from the case or GPU fans noise-wise.
The Thermalright Le Grand Macho RT makes even less sound than our pick at the expense of a few extra degrees. Consider it if silence trumps everything else for you.
There's no doing the Dark Rock Pro 4 justice without throwing around terns like huge or gargantuan. Fortunately, this applies mostly to the heatsink since its two fans are petite in comparison. The cooler's stylish all-black appearance speaks of silence, as do the fans' specs. Both are SilentWings 3 models with slightly different dimensions. The front one is a 120mm fan that rotates at 1,500 RPM, while the middle one is 15mm larger and has a corresponding max RPM decrease of 300.
It's hard not to stare in awe at the twin black heatsink made from aluminum. Unlike Noctua's models, air is free to escape through it from all sides. The base is made of two parts. The top is aluminum equipped with large cutouts that already radiate considerable warmth away from the processor. The bottom part is nickel-plated copper and serves as a meeting point for the seven 6mm black-coated heatpipes.
You'd think that installing such a bulky cooler would be challenging, but several features simplify the process. For example, the top brackets can be mounted at two different angles, allowing you to rotate the entire assembly 90 degrees. Handy holes in the heatsink's top let you use the accompanying screwdriver to secure it to the crossbar. You'll have to remove the middle fan first, but reattaching it is easy. There's no clearance trouble for the first GPU slot and most RAM sticks, but unusually tall RAM may not fit into every slot unless you adjust the front fan.
Acoustics tests performed on the Dark Rock 4 do not disappoint. There are quieter fans for cooling lesser processors at a quarter or half speed. However, you'll want nothing else keeping your 10850K from melting the motherboard while also remaining quiet.
Best Budget Air Cooler for i9-10850K: Noctua NH-U14S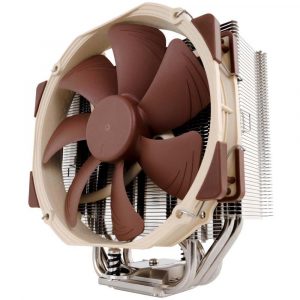 Keeping a processor like the 10850K temperate with air alone is a daunting task, which is why Noctua is the company to go with yet again if you're looking to save a few bucks. Its NH-U14S cooler shares many similarities and a fan with our other pick, but it has a different configuration and heatsink design. This leads to only slight decreases in thermal performance while noise remains commendably low.
The cooler comes with the same NF-A15 PWM fan we've gushed about above. There's no black version this time around, so you're stuck with Noctua's trademark colors whether you like it or not. The fan is large compared to the heatsink and covers it entirely. Two clips allow you to attach or easily reposition it upward should you run into memory clearance issues. Adding a second fan to create a push-pull system isn't a bad idea either.
The most significant difference between our two Noctua recommendations is in the shape and layout of the heatsink & base. The single aluminum heatsink doesn't have an offset and is thicker than the two parts seen on the NH-D15s. Twelve small holes near the heatpipe caps help with heat exhaust, while a gentle V-shape indent allows the fan to speed air up before directing it into the fins. The heatpipes are clustered tightly due to a smaller base but take different approaches to reach the fins, minimizing overlapping areas.
The NH-U14S comes with the same mounting hardware as the other Noctua fan and takes roughly as much time to set up. The finished cooler is tall but will fit inside modern cases without a hitch. Its memory clearance is tight. Even so, taller RAM sticks and GPUs inserted into the first PCIe x16 slot should not come into contact with it.
According to Noctua's compatibility chart, the cooler is more than enough to handle your 10850K even when overclocking. While that's true for most real-world applications, we wouldn't run torture tests to make sure. Given the budget nature of the cooler, your best bet is to run the CPU either at stock clocks or overclock it modestly. You can look forward to stable, reasonably temperate, and silent results in that case.
Frequently Asked Questions
What cooler do you need for i9-10850K?
In essence, the 10850K is a slightly underclocked 10900K. The differences in performance and heat output are effectively meaningless, which makes the 10850K one of the most challenging chips to keep thermally stable. Budget and many mainstream coolers will throttle when faced with such heat, leaving you with an expensive yet underutilized processor.
Generally, the more you spend on the cooler, the better the results will be. You either need the high-end air cooling provided by the likes of Noctua or a good AIO for the best results.
Does the Intel i9-10850K come with a cooler?
No, you do not get a cooler with the 10850K or any other K processor. Intel ships coolers only with its low to mid-tier locked chips, and even then, the coolers aren't as good as AMD's stock ones. Knowing this, Intel wisely lets consumers pick their own coolers and offers high-end CPUs at slightly lower prices.
Is 240mm AIO enough for 10850K?
That depends on your overclocking ambitions and how much you're willing to spend. Less expensive models may be sufficient for keeping the 10850K from throttling at stock clocks. You'll want something like Lian Li's Galahad 240 to also play around with overclocking.