6 Best Motherboards for Ryzen 9 5900X in 2023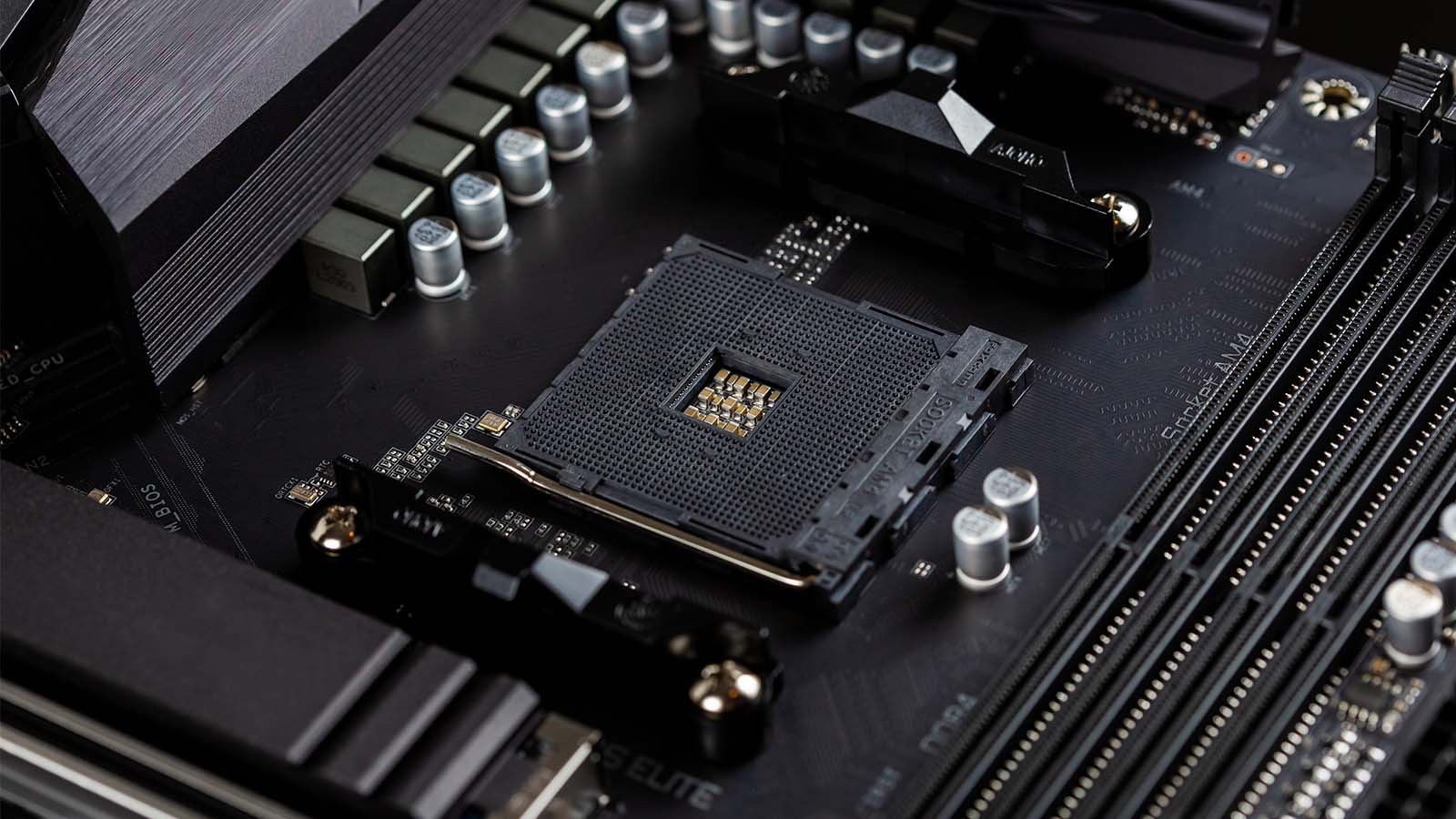 It's not hyperbole to state that the 5900X is a landmark processor in the history of desktop computing. It matches or outperforms Intel's best in gaming and predictably dominates when strong multi-threaded performance is called for. Add a comparably low TDP and reasonable thermals, and there's enough evidence to conclude that Ryzen 3 has tipped the scales.
A stellar processor ought to reside at the heart of an equally capable board, so we've created a list of the best motherboards for Ryzen 9 5900X to make finding the right one easier.
Best High-end ATX Motherboard for Ryzen 9 5900X: ASUS ROG Crosshair VIII Hero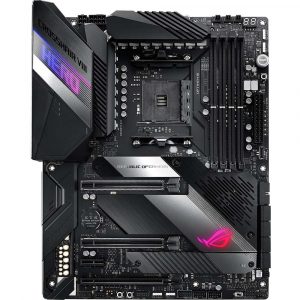 Recommending a high-end board for the 5900X is no picnic since all the leading manufacturers have outstanding premium boards, sometimes at ridiculous prices. Ultimately, it was a close call between this board and the Asrock X570 Phantom Gaming X, with ASUS' mobo barely winning out due to more VRM phases. It's a product hardcore gamers and overclockers alike will love and sure to tide you over until the next Zen architecture.
Black has become synonymous with premium boards, and this one exemplifies the aesthetic. There's little to disturb its jet harmony except for a thick steel-colored bar that travels from the I/O shroud almost to the bottom right corner. The LED light show is appropriately demure, consisting of strips that illuminate the ROG logo on the chipset and " HERO" on the I/O shroud.
Much of the ROG Crosshair VIII Hero is clad in armor-like heatsinks, most notably the one that encompasses the chipset and two of its three M.2 drive slots. It makes adding more drives down the line tricky but provides superb cooling. They, as well as all three x16 slots, are PCIe 4.0 compatible. You can hook up eight more SATA drives through 90-degree inputs and equip the board with 128GB of RAM.
Overclockers will have a field day with this board as it's capable of giving the 5900X a workout without breaking a sweat itself. You may thank its top-notch VRM that utilizes teaming instead of doubling to effectively turn a physical 7+1 setup into 16 phases that deliver 60A each. The heatsinks are robust and riddled with cutouts for improved airflow, not to mention connected through a heatpipe. This kickass combination makes the board efficient both in power consumption and heat generation.
It's up to you whether to cool the board with air or water as options abound for both. There are eight fan headers along with connection points for temperature and water flow sensors. Other notable internals include an array of caps providing sound through the SupremeFX S1220 audio codec, onboard power & reset buttons, a two-digit debugger, and several USB headers.
Speaking of USB, the back I/O has twelve of them, none older than USB 3.2 Gen 1. You also get Wi-Fi 6 and two LAN inputs, one of which is 2.5 Gbps. An optical S/PDIF out accompanies five gold-plated audio jacks. Users who do a lot of testing and rebooting will be glad to have the clear CMOS and BIOS flashback buttons.
Best Mid-Range ATX Motherboard for Ryzen 9 5900X: MSI Meg X570 Unify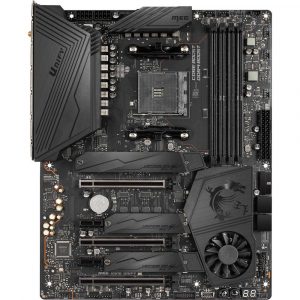 The first X570 boards MSI put out were met with criticism due to lackluster features and poor heat management. MSI went back to the drawing board and came up with the first of several great comebacks – the Unify. It's a stealthy, sophisticated, and competent board you'll love whether you're a seasoned overclocker or need tons of blazing-fast storage.
The X570 AORUS Ultra and X570 Taichi are solid alternatives if you can't find MSI's mobo or get it at a reasonable price.
Black beauty is the first thing that comes to mind while admiring the motherboard's tasteful layout. Far from being boring, the all-black color scheme is subtly enhanced by slight patterns, lines, and shadowy logos strewn across the PCB and heatsinks. Users who've had enough of the RGB craze can rejoice since the debugger code lights are the only ones present natively. You could use some of the various RGB headers to change that, though.
MSI put a lot of thought into designing the Meg X570 Unify for heat efficiency and accessibility. Not wanting to repeat past mistakes, they outfitted it with two daunting heatsinks for the VRM connected with a thick heatpipe. Each of the three M.2 slots has a Frozr heatsink that's easy to remove, and the chipset is equipped with a large but noiseless fan. Four SATA ports and several USB headers sit at a right angle for improved cable management.
A robust VRM allows you to experience the full extent of your 5900X's power. They're connected in a 12+2 configuration where six twinned phases take care of the Vcore while the remaining two deliver power to the SOC. Each of the twinned phases can handle 60A of current for a total of 720A. That translates to cooler VRMs, which contribute to better overall stability.
You won't lack storage or GPU expansion options since the board supports three M.2 drives and as many graphics cards, all through PCIe 4.0. Two of the SSD drives can be 110mm long, while the bottom one maxes out at 80mm. Two GPU slots are armored. The DIMM slots aren't reinforced like on the more expensive ACE, but the 5900X allows for great overclocks of up to 128GB RAM through the user-friendly BIOS.
The I/O backplate comes preinstalled and is home to many useful features. The cleat CMOS and BIOS flash button make installing the 5900X easy if the board happens to ship with older firmware. You get 2.5 Gbps LAN and Wi-Fi inputs, eight USB ports with USB-C , and PS/2. There are no video outs, but you do get S/PDIF out as part of the audio stack.
Best Budget ATX Motherboard for Ryzen 9 5900X: MSI MAG X570 TOMAHAWK WIFI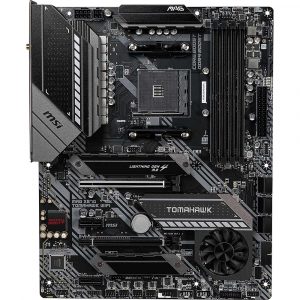 MSI fell from grace during the beginning of the X570 life cycle because of the Gaming Pro Carbon. Reviewers rightfully bashed the board for its horrible thermals and failure to endure VRM stress tests. Luckily, the company took its road to redemption seriously across different price tiers and graced us with the newest AMD compatible Tomahawk. It's undisputedly the finest overclocking and gaming board if you don't want to exceed the $300 mark.
The board has a familiar black & grey color scheme that still manages to be refreshing due to clever pattern implementation. There's a lot to take in as you discover the dots, lines, and slanted squares that give the board a recognizable look. The RGB is relegated to a strip covering the top of the right edge, but you can add more if you wish.
MSI put much consideration into the VRM as an apology and a reaffirmed commitment to excellence. Interestingly, the heatsinks remain the same as on the older X570 boards. They're thick and have contact points for chokes as well as the MOSFETs. However, the new doubled 12+2 VRM phases are exceptional for the price. They use high-quality components and display a tremendous increase in heat efficiency.
Don't think that the rest of the MAG X570 TOMAHAWK WIFI's features are an afterthought either. Both M.2 slots have easily removable heatsinks, and the chipset fan is as quiet as it is efficient. The top GPU slot is reinforced to prevent sagging and works in tandem with the second one through CrossFire. Six SATA ports expand your storage options, while two x1 slots accommodate various controllers or expansion cards.
There's no shortage of varying connections on the I/O, starting with the 5+1 audio stack and HDMI. Wi-Fi 6 is supported, as is 2.5 Gbps LAN. Users holding on to ancient peripherals can utilize the PS/2 input, while everyone else may choose among eight USB ports. Lastly, the flash BIOS button is a thoughtful addition helpful for bringing the board up to speed with minimal hassle.
Best Ryzen 9 5900X Motherboard for Overclocking: GIGABYTE X570 AORUS Master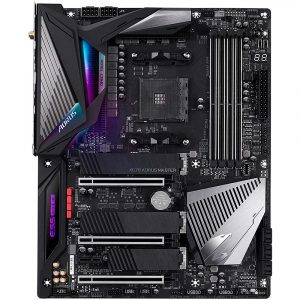 If there's one thing you can count on when building a PC, it's that the best overclocking solutions come from Gigabyte. You could technically spend more than $700 on the X570 AORUS Xtreme for world-class results, but why bother when the Master delivers comparable results at almost half the price? It features exceptional VRM, is cool both factually and aesthetically, and comes with all the connections you'll ever need.
The board sports a clean, understated look focused on diagonal lines and attractive brushed aluminum accents. Four red WIMA capacitors are another welcome sight since they break the monochrome up and reveal the mobo's audio capabilities. Gigabyte limited RGB to strips on the I/O shroud and audio solution while providing two pairs of addressable and standard headers for custom expansion.
Overclocking is the X570 AORUS Master's bread and butter, as evidenced by the impeccable VRM. It's made up of 12+2 true phases directed by a high-end PWM chip and put together from top-tier components. No doubling means less latency and better power delivery.
The heatsinks play a crucial role in supporting the VRM. They have a finned design that noticeably enlarges their area. A thick heatpipe connects the two, and a large thermal pad on each ensures full contact with the MOSFETs. Oh, and the backside has aluminum armor for more stability and better heat dissipation. As you can expect, the results are more than adequate.
The chipset is shrouded in a brushed silver cover with cutouts that increase its 40mm fan's intake. Three M.2 slots flank it and show off thick padded heatsinks. They all accept either SATA or PCIe SSDs. Only the bottom one will render two of the six SATA 3 ports inoperable if you slot the same kind of drive into it. The spacing between the three PCIe 4.0 x16 lanes allows for two or three-slot GPUs. All three have steel armor, as does the RAM.
A plethora of internal connectors awaits experienced builders. Seven of them are fan and pump headers, most of which are clustered around the CPU socket. More headers are there for diagnostics, along with power controls, temperature sensors, and a coded debugger. The internal USB selection is healthy and includes USB-C.
Ten USB ports await you on the shielded I/O, as do two Ethernet jacks as seen on our high-end pick. The audio stack comes with an optical S/PDIF out, while video out is understandably absent. That leaves the Wi-Fi 6 connectors and buttons for flashing the BIOS or clearing the CMOS.
Best Micro-ATX Motherboard for Ryzen 9 5900X: ASRock X570M PRO4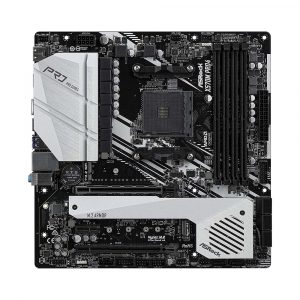 Our recommendations are usually based on research and careful consideration. None of those apply in the case of X570 mATX boards since there's only one remotely worth recommending. You'll have to fiddle with the board's settings to optimize it for use with the demanding 5900X. Still, they have the potential to work together well if you temper expectations.
ASRock went with a black & white approach to the X570M PRO4's design that turned out well. The chipset heatsink and I/O shroud contrast nicely with the PCB. Several diagonal lines streak the board's surface for added flair. There's no native decorative lighting, but you may remedy that through three RGB headers.
The presence of two M.2 PCIe 4.0 slots is a pleasant surprise. One shares a heatsink with the chipset and is positioned ideally to house your primary SSD. You'd think the heatsink's grille wouldn't let enough air in, but the chipset fan works silently while keeping the chop stable. The four DIMM slots max out at 128GB, and you can overclock the RAM through convenient access to XMP profiles from the UEFI.
5900X owners ought to take note of the VRM and how it will impact the chip's performance. It's configured in 8+2 phases, with twinning on the Vcore ones. They provide a current of 50A each, which means that even regular use of the 5900X can strain the phases. Additionally, there's only one VRM heatsink. It's made from a slab of aluminum with little in the way of area optimization. Chances are that the 5900X will run hot on this board even at stock settings, so you might need to undervolt it to keep temps down.
The I/O is interesting in that the audio offering is at odds with the supplied codec. The board comes with high-quality 7.1 Realtek ALC1200 audio yet has only three 3.5mm jacks for headphones and stereo speakers. These are accompanied by HDMI & DisplayPort as well as one PS/2 input. You also get Gigabit LAN and eight USB inputs, including USB-C. All of these are USB 3.2 Gen 1 or newer.
Best Mini-ITX Motherboard for Ryzen 9 5900X: ASUS ROG Strix X570-I Gaming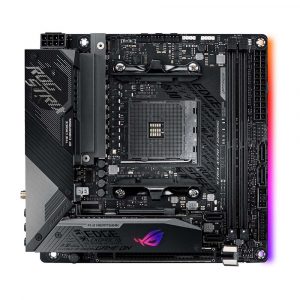 SFF fans may rejoice since the generation's mini-ITX offerings fare much better than their mATX cousins. Case in point is another ASUS ROG board, this time designed to combine the rigors of running a high-end CPU with the challenges brought forth by small cases. It does so in true ASUS fashion, with style and substance alike.
You can save a couple of bucks by going for the X570 Phantom Gaming or X570 I AORUS Pro Wi-Fi instead.
We applaud ASUS for designing a board that's filled to bursting yet manages to retain a certain charm. You'll see it in the perforations on the I/O shroud and shiny writing on the otherwise matte black PCB. There's even room for colorful lighting to the side and in the ROG eye. You're not limited to those if you use the three- and four-pin RGB headers.
The board's design presupposes you'll be placing it inside a cramped case and has two fans to help combat the resulting heat. The chipset one is expected, albeit hidden under a removable daughterboard that houses an M.2 drive, its heatsink, and the audio hardware.
The other fan sits inside the I/O shroud and helps maintain a cool airflow over the VRM padded heatsink. The board uses 8+2 power phases all arrayed to the CPU's left. They're more than capable of handling a 5900X at stock settings and will even allow for some overclocking if the case's airflow is good enough. Whether you overclock or not, the board shows excellent stability and has reasonable power demands.
A second M.2 drive is tucked away in the back and shares room with the mobo's armored rear. A single x16 GPU slot can be found on the PCB's bottom, right next to two of the four SATA connections. The pair of DIMM slots accommodate 64GB of RAM overclockable to a decent degree. You may also connect three fans or water cooling components through headers.
It's disappointing that the ROG Strix X570-I Gaming's I/O doesn't come with a preinstalled plate, but it makes up for that with a decent spread of connections. There's Wi-Fi 6 and Gigabit LAN for online connectivity along with HDMI & DP for video out. The SupremeFX S1220A codec is responsible for audio coming from the three analog audio jacks. Finally, USB is split between four first-gen and four second-gen ports, including USB-C.
Frequently Asked Questions
Is Ryzen 9 5900X overkill?
The 5900X is among the most capable desktop processors in the world, but whether it's worth it or not depends on your priorities. The chip shines when it comes to running multiple high-intensity processes at once without slowing the system down. You'll love it if you frequently compile videos, run virtual machines, and simultaneously have 20 open browser tabs. It's an exceptional performer for games too, but if that's your main concern, you'd be better of with an R5 or R7 processor instead.
What motherboard should I get for Ryzen 9 5900X?
We've outlined what we think are the best choices to pair a 5900X with above, but there are many more alternatives to explore. The X570 platform has had time to mature and offers competent boards across several price brackets. That being said, select boards by MSI offer the best bang for your buck. Gigabyte and ASUS push for overall excellence or offer the best niche products like mobos for small PCs or workstations.
What motherboards are compatible with Ryzen 9 5900X?
Potential 5900X owners are in a good place since they have many motherboards to choose from or even fall back on. You may keep using most X470 boards if you're upgrading from an older Ryzen processor; you'll only need to update their BIOS to a state that recognizes the new chip. B450 and B550 boards work too.
However, you'll get the best experience by combining the 5900X with an X570 motherboard. They utilize PCIe 4.0 for exceptionally fast storage. Many have excellent VRMs. They also come with more advanced connections like newer USB or faster wireless & wired internet.