6 Best CPU Coolers for Ryzen 5 5600X in 2023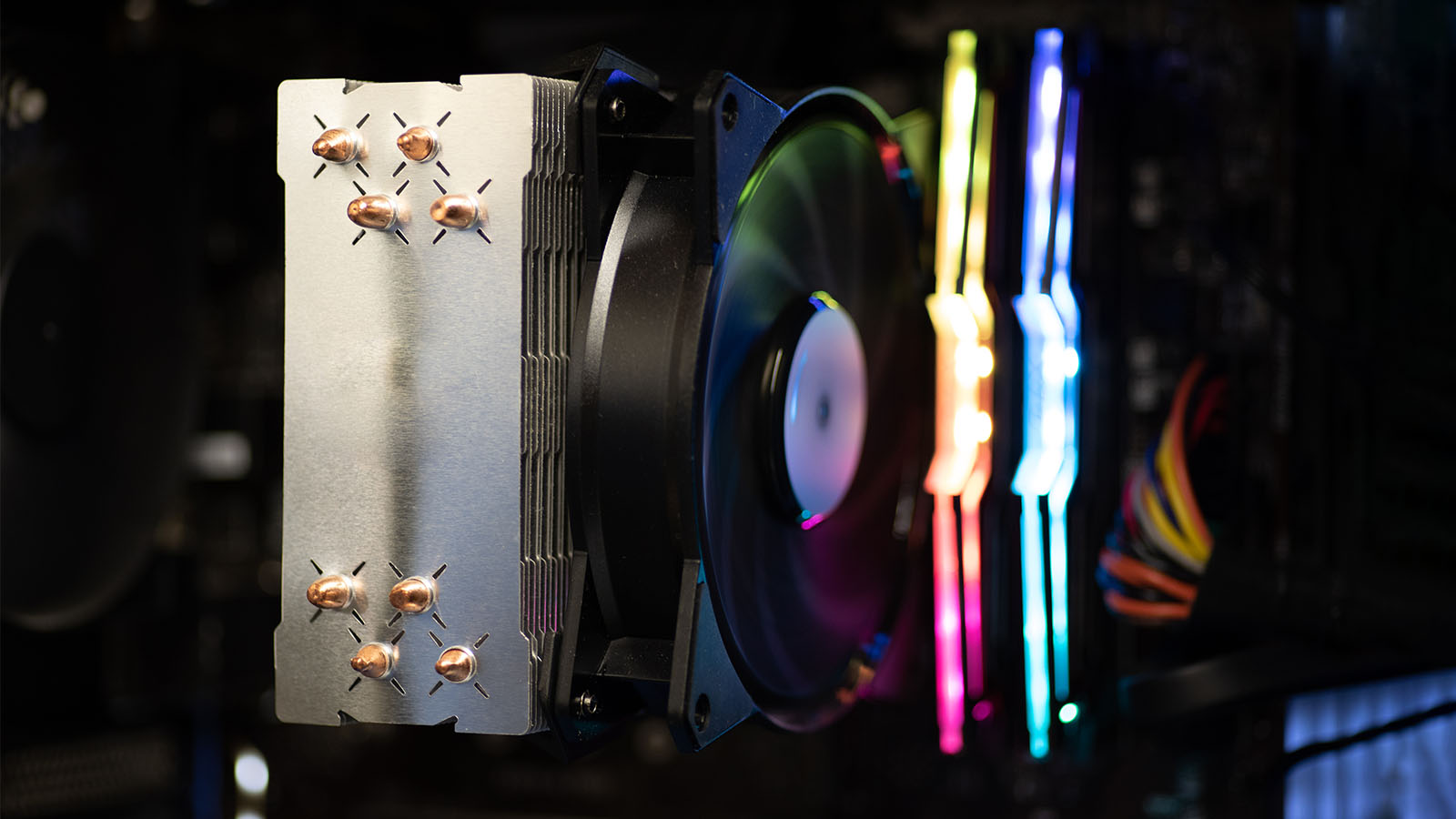 The R5 5600X is the cheapest yet the most desirable X-series Ryzen 3 chip. It maintains AMD's customary dominance in multithreaded applications while giving previously untouchable Intel chips like the 10700K a run for their money when gaming. It's a shame that the processor comes with a lackluster cooler that won't let you experience its full potential, though.
That's why we've put together a guide on the best CPU coolers for Ryzen 5 5600X filled with aftermarket models that will. You'll find recommendations for SFF PCs, performance builds, stealth rigs, and everything in between. Take your pick, and unlock your processor's tremendous potential.
Best Overall CPU Cooler for Ryzen 5 5600X: Noctua NH-U12S SE-AM4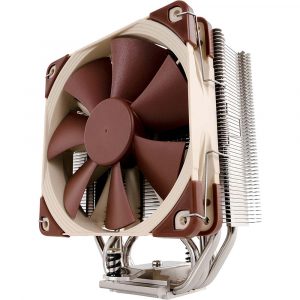 Noctua is the epitome of air cooling excellence, and that's not true just for its most premium models. Case in point, the 120mm model we've chosen as the top one for the 5600X. It's engineered with all the customary Noctua attention to detail and comes with mounting hardware to make installation on an AM4 board a snap. Best of all, it will keep your CPU chill without causing a ruckus.
The Scythe Fuma 2 is another popular choice in this price range, so give it a go if you're into affordable yet efficient double coolers.
Noctua doesn't just stand out performance-wise; its brown and beige-colored fans have been a staple for years. The look has become a sign of prestige even though it clashes with most PC interiors. You can always pay a little extra for the Chromax black version if that irritates you. The signature color fan is an NF-F12 PWM model that comes with a low noise adapter. It will ordinarily turn at 1.500 RPM and shift more than 90 CFM of air. However, you can engage the LNA to make it quieter at the cost of a 20% reduction in max RPM.
The grooved heatsink is comprised of 50 aluminum fins, each with a stamped Noctua logo that slightly increases turbulence. Five nickel-plated copper heatpipes extend from out of the base at alternating angles to minimize contact. The base's bottom surface is expertly milled and smooth, providing an optimum point of contact with the CPU. A tube of Noctua's premium thermal paste is part of the package too, but you have to apply it yourself.
The cooler's original version made its debut long before AMD became relevant again. The NH-U12S SE-AM4 catches up with the times since it includes AM4 mounting hardware. You get two sets of mounting brackets and can choose to mount the cooler either horizontally or vertically. The process isn't difficult whichever way you go, and the heatsink is thin enough to eliminate any memory compatibility issues.
Tests conducted with AMD CPUs indicate that it beats the stock cooler whether your CPU is idling or under heavy load. The NH-U12S SE-AM4 is also an exceptionally quiet performer, so you're killing two birds with one stone by spending a little extra on it.
Best Silent Cooler for Ryzen 5 5600X: be quiet! Pure Rock 2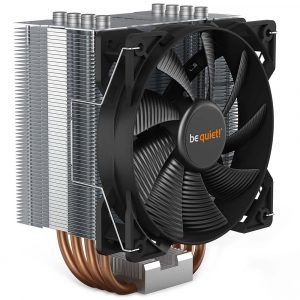 The 5600x has the advantage of performing well despite a low TDP, which allows you to pair it with less expensive coolers and still enjoy nearly noiseless operation. That's the idea behind this budget-friendly cooler from be quiet! It's designed to deliver performance as good as or better than stock while employing several features to live up to the company name.
Users who plan on overclocking the 5600X might want to spend a bit more and go with the Shadow Rock 3 instead.
Simple and as stealthy as you want it to be is a good way to describe the Pure Rock 2's appearance. The latter refers to your choice of heatsink color, whether gleaming silver to make it stand out or black to blend in with the rest of the build. Either version gets a black 120mm PureWings 2 fan with an RPM range of 300 to 1,500. It has nine ribbed blades, which helps to disturb the air as they're rotating.
The heatsink has several small design features that help increase its efficiency, like the series of sawtooth patterns responsible for greater turbulence. They narrow towards an indent in the middle, allowing the fan to build pressure up before sending air through the 55 fins. Four bare copper heatpipes fan out from the aluminum base symmetrically. The base itself has several thick fins that let it act as a pre-cooler along with a central channel meant for the crossbar.
Installing the fan on an AM4 motherboard is easy since the backplate is already there. You need to remove the plastic bits it comes with and place standoffs onto the bare screws. Then you install the two AM4 brackets and tighten the base via the crossbar. The installed cooler is offset to the left so that memory clearance won't be an issue.
Performance-wise, the Pure Rock 2 is only a modest step up from the bundled stock cooler. However, it is significantly quieter, measuring from 25 to 30dB throughout much of its range. Expect the noise not to exceed 35dB even at 100% RPM. That means you can push the cooler to lower the temperature by a few more degrees while maintaining silent operation.
Best Beginner-friendly Cooler for Ryzen 5 5600X: Cooler Master Hyper 212 EVO V2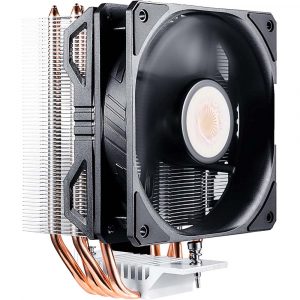 Cooler Master's Hyper 212 line goes back a while and has always been the go-to choice for PC builders looking to cool their processor without spending too much. Trouble is, installing the coolers was akin to rocket science, especially if you are a first-time builder. The newest EVO does away with that and is among the easiest models for beginners to experiment with. Add an attractive price & solid performance, and you've got a winner.
Users familiar with the original EVO will spot several differences as they examine the fan. Dubbed SickleFlow, it now has seven translucent blades that spin from 650 to 1800 RPM with a max air turnover of 62 CFM. Equally important are the new Snap & Play clips. They're made of thick plastic and secure the fan to grooves in the heatsink. Doing so is less fiddly than using small metal brackets, and you get a second pair if you want another fan.
Even though it's the cheapest fan on review, the Hyper 212 EVO V2 has a few tricks up its sleeve. For example, its four pipes are staggered and bend at different angles before entering the heatsink array. The aluminum base that supports them is massive and draws lots of heat away in its own right. Whatever is left travels up towards the 57 fins, which feature cross-shaped notches around the heatpipes and an inset central section that allows the fan more room to breathe.
Cooler Master took simplifying the installation seriously, leaving users with a pleasantly easy project even novice builders can complete in ten minutes. You get a single backplate with the cooler and have to turn it over to the AMD side & install some studs onto it first. You then mount standoffs onto them and insert the bracket. Securing it and then screwing the base in is all it takes.
Real-world tests rank the EVO V2 as a solid if unremarkable cooler. It's definitely better than stock, and you'd be hard-pressed to find a more efficient model at its attractive price point. Still, adding $5 or $10 to your budget will open up more options if you're looking for lower temperatures or less noise.
Best Low-profile Cooler for Ryzen 5 5600X: be quiet! Shadow Rock LP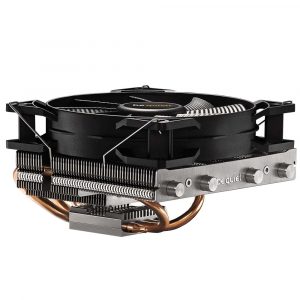 Small form factor PCs often struggle with airflow issues. Coupled with cramped space, this makes designing adequate CPU cooling even more challenging. Not for be quiet!, as their exemplary compact model can take anything the 5600X will throw at it even if other conditions are sub-optimal.
Our pick uses a 120mm fan, so go with Noctua's smaller NH-L9a-AM4 if you have clearance concerns.
You'll easily be able to use the cooler with the smallest SFF cases since it's slightly more than 75mm high with the PureWings 2 fan in place. This orientation allows the fan to blow air onto the heatsink as well as the VRM surrounding it, contributing to the system's overall thermal stability. The fan's stats are identical to the one seen on the Pure Rock 2.
Despite its size, the Shadow Rock LP has one of the most interesting heatsink designs out there. The large stack has 54 fins and is pierced by all four heatpipes. There's a second stack underneath the primary one, with 20 fins less and supported by a pair of pipes. Two cutouts on the main stack allow access to the crossbar screws, while several dips enlarge the surface area.
Following the instructions should result in a speedy and successful installation. There's plenty of room between the assembled cooler and GPU, even if you're using a mini-ITX board. Compatibility with the first RAM slot may only come into question if the kit you're using has tall heat spreaders.
The Shadow Rock LP does customarily well in loudness tests, but it's a champ at keeping temperatures down too. An adventurous reviewer mounted it onto an i9-9900K, which it could handle in real-world scenarios without throttling. That means your 5600X will never throttle as its power requirements are much more modest.
Best RGB Cooler for Ryzen 5 5600X: Thermaltake UX200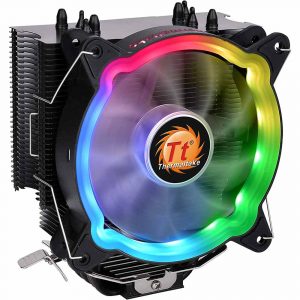 Want to bring some color into your PC's black interior? Thermaltake has an unusual-looking model that's anything but dull. It features a convenient installation mechanism, has sixteen vibrant addressable LEDs, and does its job well if you don't plan on pushing the 5600X's limits.
The GAMMAX GT from Deepcool is a similarly-priced alternative with a beautiful translucent white fan and bright LEDs. You could also save up more and go for the MasterAir MA410M if you need lower temperatures without losing on presentation.
Rather than being content with offering an excellent light show, Thermaltake made the fan easy on the eyes even when the lights are off. It combines a black plastic base with transparent blades surrounded by a dimpled ring. Its thickness is 25mm, while the speed ranges from 300 to 1,500 RPM. Each blade has a bulging flame motif that helps disturb the air.
The addressable LEDs give off a vivid and bright glow. You can sync them through popular motherboard manufacturers' software or leave the default rainbow pattern if that's more to your liking. A Thermaltake cutout on the fan's top gives off more light and makes the light show more appealing.
The base and heat dispersion elements aren't as exciting. The heatsink is black and lacks the many pattern changes seen on more expensive alternatives. The pipes are spaced out well and coated in black paint until converging at the thin base.
The UX200 follows an installation procedure similar to stock coolers. Rather than relying on a backplate, it comes with a large O-shaped bracket you screw into the motherboard's holes. The rest of the assembly then clamps into place. Everything fits tightly together despite the flimsy appearance. However, this type of mounting hardware might go over some of the VRM's chokes and capacitors.
RGB coolers aren't as efficient as regular ones that cost as much, and the case is the same for this one. The thermal performance could be better. Keep in mind that the linked test was performed on a Ryzen 7 2700X, which produces more heat than the 5600X. On the other hand, you can look forward to a colorful and quiet system since the fan barely makes a sound.
Best Budget Cooler for Ryzen 5 5600X: ARCTIC Freezer 34 eSports DUO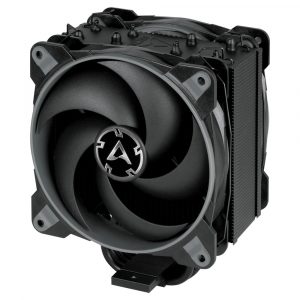 Similarly-priced components generally perform within small margins of one another, but every so often, a product like the Freezer 34 eSports DUO comes along and shatters conventions. It's hard to wrap one's head around the fact that this dual cooler performs as well as it does without even costing you $50. The article covers models that are a few dollars cheaper, but nothing beats this one in terms of sheer value.
A unique look hints at how this cooler stands out from the rest. It has matte black heatpipes and heatsink fins along with twin five-bladed fans available in a range of colorful accents. They're 120mm BioniX models whose range stretches from 200 to 2,100 RPM. They'll shut off entirely if there's not enough current coming from the PWM connector, letting you enjoy passive and soundless operation when the 5600X is idling.
The 54 fins that make up the heatsink have a prominent sawtooth pattern that enlarges the front and back surface areas while agitating the air more as it passes. The heatpipes pass through in box rather than line arrangements and take different approaches to maximize cooling. The base is the least attractive part since it's small and doesn't contribute to cooling. Even so, it is machined well and melds with the exposed portions of the pipes completely.
You'll be using your motherboard's backplate to install the cooler, and the process itself is similar to the one we've described when talking about the Pure Rock 2. Four RAM sticks should fit even if they're tall, but the first one may find itself under the front fan. Speaking of which, you'll need to remove them during mounting, but provided clips make reattachment easy.
The eSports DUO's cooling performance is outstanding! The guys over at Kit Guru demonstrated this beyond doubt by pairing it with the notoriously hot i9-9900K. The results? It kept its cool even when they overclocked the processor! The acoustics aren't as impressive since the fans produce noise in the mid-40 dB range when running at full blast. That's a small price to pay for cooling this good at such a low price, though.
Frequently Asked Questions
Is the stock cooler enough for the 5600X?
AMD used to accompany their mid-range CPUs with the Wraith Spire. This excellent entry-level cooler that let you maintain reasonable temperatures even when overclocking. They've since downgraded this to the Wraith Stealth. The Stealth is enough if you want to run at stock clocks but can't radiate heat away fast enough if you're going to squeeze everything out of the chip.
What cooler do I need for 5600X?
Even though the Wraith Stealth can't cut it, the good news is that you don't need a costly cooler for markedly better or quieter performance. Most models in the $40-60 range will be adequate. You don't need an AIO for overclocking if you aren't comfortable getting water near your components. Any of our recommended coolers or their alternatives will be an improvement over the Stealth.
Do I need AIO cooler for 5600X?
The 5600X has a TDP of just 65W and doesn't get overly hot when stressed. You don't need AIO to cool it properly unless maintaining very low temperatures is important, or you have a spare from another build you'd like to use.