6 Best RAM for i9-11900K in 2023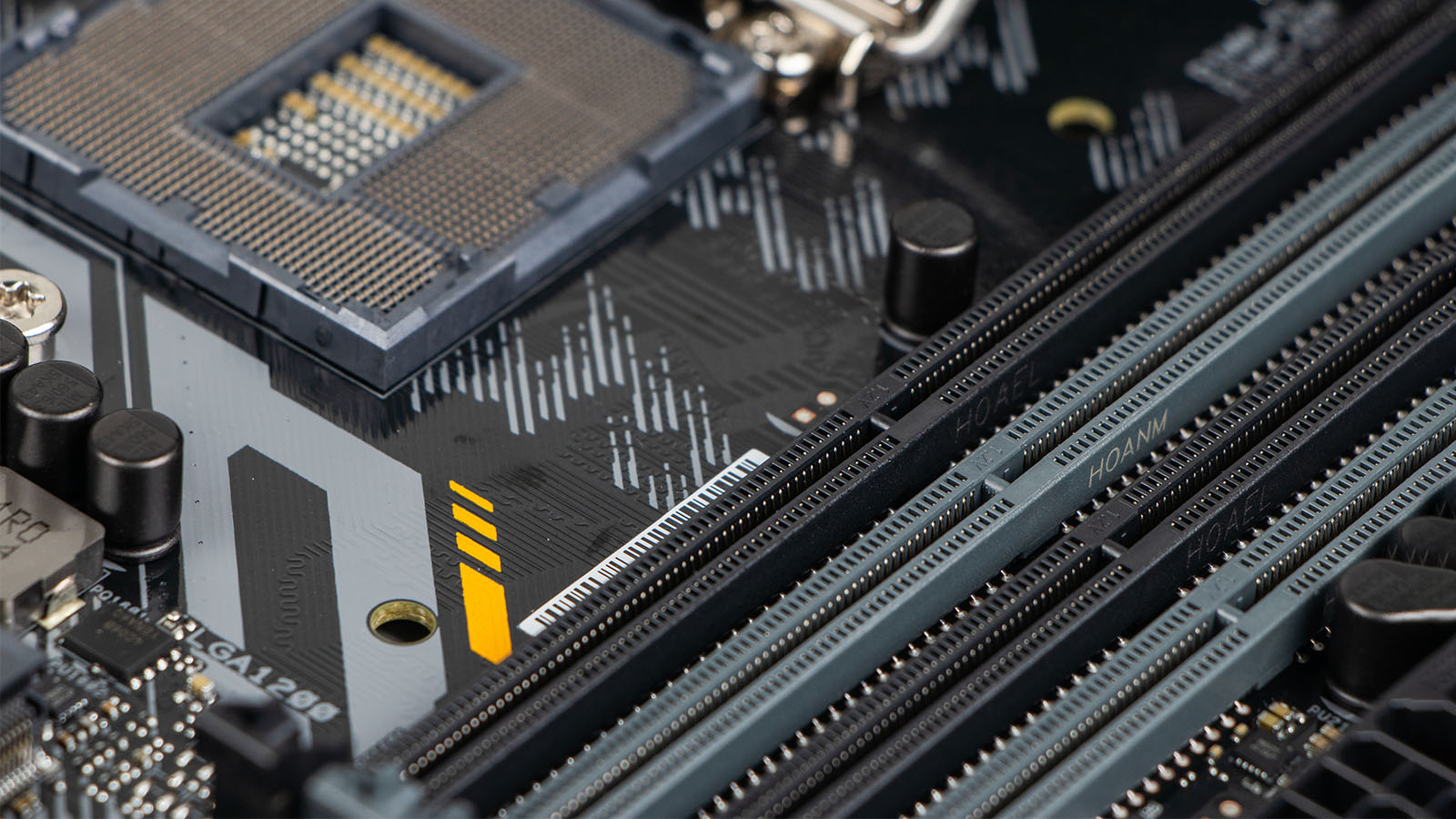 The 11900K occupies an interesting spot in Intel's long line of flagship desktop CPUs. It didn't live up to gamers' expectations since its gaming chops are either on par or even worse than its predecessor. Even so, the fact that it's a departure from the archaic 14nm manufacturing process and the first part of the first release in a while to focus on IPC gains and multithreading makes it attractive for a select audience.
Building a system around such a powerful and power-hungry CPU takes careful consideration, even when memory is concerned. That's why we've put together this guide on the best RAM for i9-11900K to streamline your selection process. Read on to find top-quality kits ranging in size, price, and specs sure to remain relevant for the foreseeable future.
Best High-end RAM for i9-11900K: G.Skill Trident Z Royal 4000MHz 4x8GB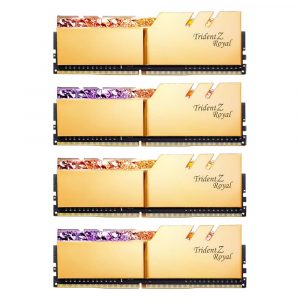 While other variables also play their part, Intel systems thrive on memory that combines the highest clocks with the lowest latencies. To that end, it doesn't get much better than the royal version of G.Skill's long-running Trident Z series. It accompanies serious gaming chops with bling to match and will improve the look of any build. The memory is expensive, but you shouldn't mind if getting peak performance out of your system is your first priority.
It's impossible to ignore the Trident Z Royal's extravagant looks. Some people might be put off by the mirror polish of its metal heat spreader or the diffuser molded into a diamond pattern. We feel it's classy, though, and fits in black or white builds alike. Take care when handling not to smudge the sticks since getting fingerprints on them is extremely easy.
Eight addressable LEDs are spread out evenly on each stick. The diffuser's rough texture makes for an unusual light show since the facets can cause tasteful color overlaps. G.Skill provides its own competent management software for lighting tweaking, but every major motherboard manufacturer works too.
A superb configuration accompanies and justifies the flashy exterior. Each stick arrives already binned almost to the max, with a frequency of 4000MHz and exceptional timings of 15-16-16-36! It takes a lot of electricity to achieve this, so the RAM's default voltage is 1.5V. Nothing its Samsung B-die isn't capable of handling. In fact, you can crank the clock up to 4400MHz with trivial CAS latency adjustments and still have it operate stably for years.
All of this pays dividends once you put the memory to some stressful tasks. It aced Techpowerup's grueling test battery, scoring first or second in every read & write challenge. It's also great for gaming, consistently providing great FPS and taking the Far Cry 5 benchmark lead.
Best Mid-range RAM for i9-11900K: Crucial Ballistix MAX RGB 4000MHz 2x16GB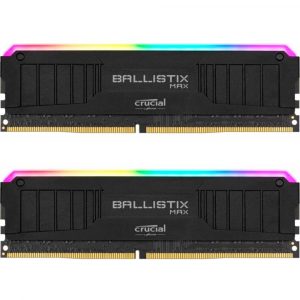 Are you keen on achieving Royal-like results but find its steep price hard to swallow? Crucial has a tempting alternative in the form of the MAX RGB version of its Ballistix RAM. The cost reduction is due to looser timings and a much more subdued appearance. However, you can play around with the former to shrink the performance gap, increasing the value further.
G.Skill's Trident Z NEO is also worthy of your attention. It's a fresh take on the Trident design and not far behind our main pick performance-wise, even though its XMP frequency is lower.
While nowhere near as extravagant as our high-end pick, Crucial's memory is far from ugly. The 8-layer PCB is black, as is the stamped aluminum heat spreader on top of it. The spreader's surface is broken up to add visual interest and slightly increase its area. The light diffuser on top is the most exciting bit since you can remove and replace it with one you 3D print yourself.
There's truth to the MAX in the Ballistix MAX RGB's name since each stick holds an impressive 16 LEDs. Crucial's MOD manager is simple to grasp and more useful than similar software, thanks to the memory's built-in heat sensors. These allow you to change the lighting based on the sticks' temperature. Best of all, each stick is only 39mm tall despite the presence of RGB.
A latency spread of 18-19-19-39 isn't bad for 4000MHz, but it's not exceptional either. It holds steady at 1.35V, though, meaning there's more wiggle room for experimentation than with the Royal. For starters, you can tighten the latency to achieve CL16. Alternatively, you can push the memory to 4400MHz at the cost of a marginal increase in power delivery.
Using the MAX RGB at its default settings yields good results, but the kit starts to shine once you apply that last bit of manual tweaking. This sees its performance improve markedly, both in games and for productivity.
Best Budget RAM for i9-11900K: Corsair Vengeance RGB Pro SL 4000MHz 2x16GB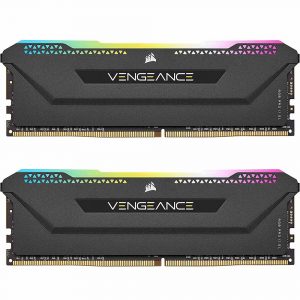 Good 4000MHz RAM doesn't need to be outrageously expensive. That's the idea behind Corsair's first kit on our list, the Vengeance RGB Pro. It's slightly less refined than the Dominator series, but that has little bearing on the kit's real-world uses. It has decent timings, iCUE support, and enough charm to be proudly displayed inside a tempered glass case.
Don't care about RGB? Then Corsair's Vengeance LPX memory should be enough while saving you even more money.
This is the tallest memory so far at 51 mm, so you should look into your cooler's clearance before purchasing to avoid frustration. Much of that height is thanks to a large yet sleek-looking heat spreader made from anodized aluminum. It houses an RGB diffuser with ten bright lights. Several cutouts that get larger towards the top do an excellent job of revealing and drawing attention to the light show.
Corsair has an entire ecosystem of related products whose lighting you can manage through iCUE. The Vengeance RGB Pro integrates into it smoothly, with plenty of exciting lighting combinations and a temperature sensing mode similar to the one on Crucial's Ballistix RAM.
A deeper look at the memory's architecture reveals why it's less expensive than the others. Its timings are set to 18-22-22-42 with some room for improvement. You can achieve this by either lowering the frequency and tightening the timings or feeding it more power in hopes of upping the frequency.
Surprisingly, lackluster numbers on paper don't translate into mediocre performance. The kit does fine when testing for read & write speeds, and its scores in artificial gaming benchmark software are also noteworthy. How these numbers translate into actual framerates depends heavily on the game in question. Still, the response is generally better than the stats and price would suggest.
Best High-frequency RAM for i9-11900K: Thermaltake TOUGHRAM RGB 4600MHz 2x8GB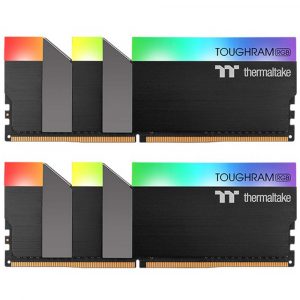 The RAM we've discussed so far has all been at 4000MHz, which greatly benefits the 11900K. Can we go higher, though? That is indeed the case with the blazing-fast 4600MHz kit from Thermaltake. It combines excellent performance with a reasonable price compared to RAM with similar specs and Samsung B-die. Add great aesthetics & voice-controlled RGB, and you've got something truly unique.
There are even faster kits out there, like the 5000MHz version of Vengeance LPX. Sadly, they offer diminishing returns and are incredibly expensive, not to mention frequently unavailable.
Thermaltake wasn't kidding when giving the TOUGHRAM RGB its name. The kit cut an imposing figure with thick yet beautiful brushed aluminum heat spreaders and tall diffusers. Two mirror-like wedges are inserted into each stick towards the left, completely breaking up the look while subtly inserting a Thermaltake logo into it.
The diffuse glow is soft but not dark to the point of being overshadowed by other components. You may control it with the standard array of motherboard lighting software. Interestingly, TOUGHRAM also responds to voice commands you give to Amazon Alexa once the proper skill is in place.
A CAS latency of 19-26-26-45 doesn't initially sound reassuring, especially since a 1.5V power requirement accompanies it. However, keep in mind that the memory works like a charm at 4600MHz. You can thank its single-layer Hynix D-die ICs. While not the best at achieving the quickest timings, it excels at reaching lofty frequencies.
Excellent pricing is another of the kit's strengths. This becomes even more poignant once you look at some test results in which it doesn't do that much better than competitors with low frequencies. Expect peak results when number crunching is called for. Gaming benchmarks see the RAM perform on par with premium-grade competitors that don't push the frequency envelope quite as high.
Best RGB RAM for i9-11900K: Corsair Dominator Platinum RGB 4000MHz 2x16GB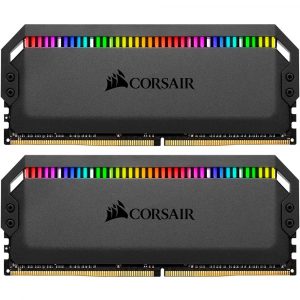 It's a testament to the times that almost every kit in the list has some kind of lighting. No one goes as far as Corsair when RGB is concerned, though. The latest entry in the Dominator line comes with more LEDs per stick than your average flashlight. Moreover, they're created in-house and glow like nothing you've seen before.
If there's anything wrong with the Dominator, it's the price. Go for some of XPG's Spectrix memory instead if you want to spend a more reasonable amount and still grace your PC with unique lighting.
There's no mistaking a member of the Dominator family for anything else due to the high heat spreader and beveled top corners. The Platinum RGB has additional charm since the heat spreader is thinner than before and available in matte versions of either black or white. The latter might not work with any build, but it's the more attractive offering due to some gold-colored accents.
This is Corsair's first memory with built-in Capellix LEDs. You might have encountered them before if you've invested in one of the company's high-end AIOs. Capellix takes up much less real estate but can glow brighter than ordinary LEDs while needing less power to work. There's no need for a conventional diffuser due to the 12 lights' positioning and strength, so you're getting square cutouts on top and contact-shaped ones on the sides instead.
The height problem you might have with the RGB Pro is even more pronounced with the Dominator Platinum since it is 4mm taller. You can get this RAM in either 2×16 or 4x8GB configurations. The differences in performance are practically nonexistent. The timings are nothing special, showing up as 19-23-23-45 in CPU-Z. At least the voltage needed to maintain them is a standard 1.35V.
The price premium is only worth it if you're in love with Capellix since performance figures don't seem to justify it. Corsair's memory does well overall, but you'd get better results by investing in some Trident Z Royal instead.
Best 64GB RAM Kit for i9-11900K: Patriot Viper Steel 3600MHz 2x32GB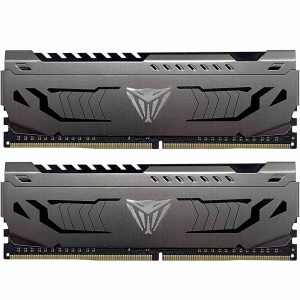 The 11900K might not have brought many gains for gamers. Still, it runs circles around its predecessor when multithreaded tasks are on the menu. Most of those, like video editing, require a lot of memory for best results. The Viper Steel from Patriot makes the cut since it's affordable RAM with room for improvement that's also perfect for motherboards with only two DIMM slots.
Readers who aren't enamored with RGB can finally rejoice at the site of memory that's both attractive and stealthy. A height of 45mm laces it in the reasonably short category, while the gunmetal gray heatsink adds to the low-key appeal. It's decorated with dark patterns and a menacing Viper logo. Accents like the fin array and indentations also serve a practical purpose, increasing the surface area and spreading heat evenly.
This is the densest kit in the guide at a massive 32GB per stick. On the one hand, cramming so much memory into one DIMM is a godsend for users with Mini-ITX boards who need lots of memory despite their system's size limitations. On the other, such a configuration doesn't lend itself well to achieving high frequencies, so you're stuck at 3600MHz.
You aren't stuck at the stock 18-20-20-40 timings, however. Introducing a 0.10V surge allows you to decrease the latency to CL17 levels. The gains aren't noteworthy in most cases, but every bit helps. Guru 3D extensively tested the kit with various games and applications, noting results similar to a kit with higher frequencies and better than a slew of 3200MHz alternatives at various latencies.
Frequently Asked Questions
Not necessarily. 16GB is the current recommended amount for gaming, and many games are nowhere near needing the maximum amount yet. While comfortable today, 16GB won't be enough as games continue to push the envelope of graphics and AI sophistication.
The story is different for content creators. Having enough RAM makes videos render faster, allowing modelers or game developers to work with more assets simultaneously. 32GB is a good start if you're planning on using the 11900K for such tasks. Conversely, it might not even be enough if you're a professional.
Will faster RAM improve FPS?
Yes, with loads of caveats and stipulations. RAM speed has the most impact on games at 1080p since that's the most CPU-bound resolution. Increasing RAM speed ups the number of instructions being fed to the CPU and leads to better framerates.
You'll notice an immediate benefit once you enable the RAM's onboard XMP profile since the base clock speed can be as little as half of what you're getting with the XMP boost. Some memory kits with good-quality ICs can then be tweaked further. Decreasing the latency also improves performance.
That being said, not all games react to clock speed boosts with equal measure. You might see a massive improvement in one title while another remains virtually unaffected. The gains become smaller as you push for frequencies higher than 4000MHz. Therefore, it makes sense for Intel owners to invest in better timings at the 3600-4000MHz range.
XMP stands for Extreme Memory Profile and is a streamlined way of making your memory faster with minimal risk to your system.
Each RAM stick has a base frequency and set of timings contained in a Serial Presence Detect or SPD chip. The PC reads this info during the POS phase of its boot-up, feeding enough power to the RAM to support factory settings.
XMP is an addition to the SPD chip that tells the system to load a second set of tighter settings at a higher frequency. The manufacturer guarantees their RAM's stability at those settings, so all you have to do is enable the profile inside the BIOS and not worry about making mistakes during overclocking. The XMP profile is also a good starting point for overclockers since it establishes the ballpark in terms of potential gains and tweaks.