6 Best Monitors for RX 6700 XT in 2023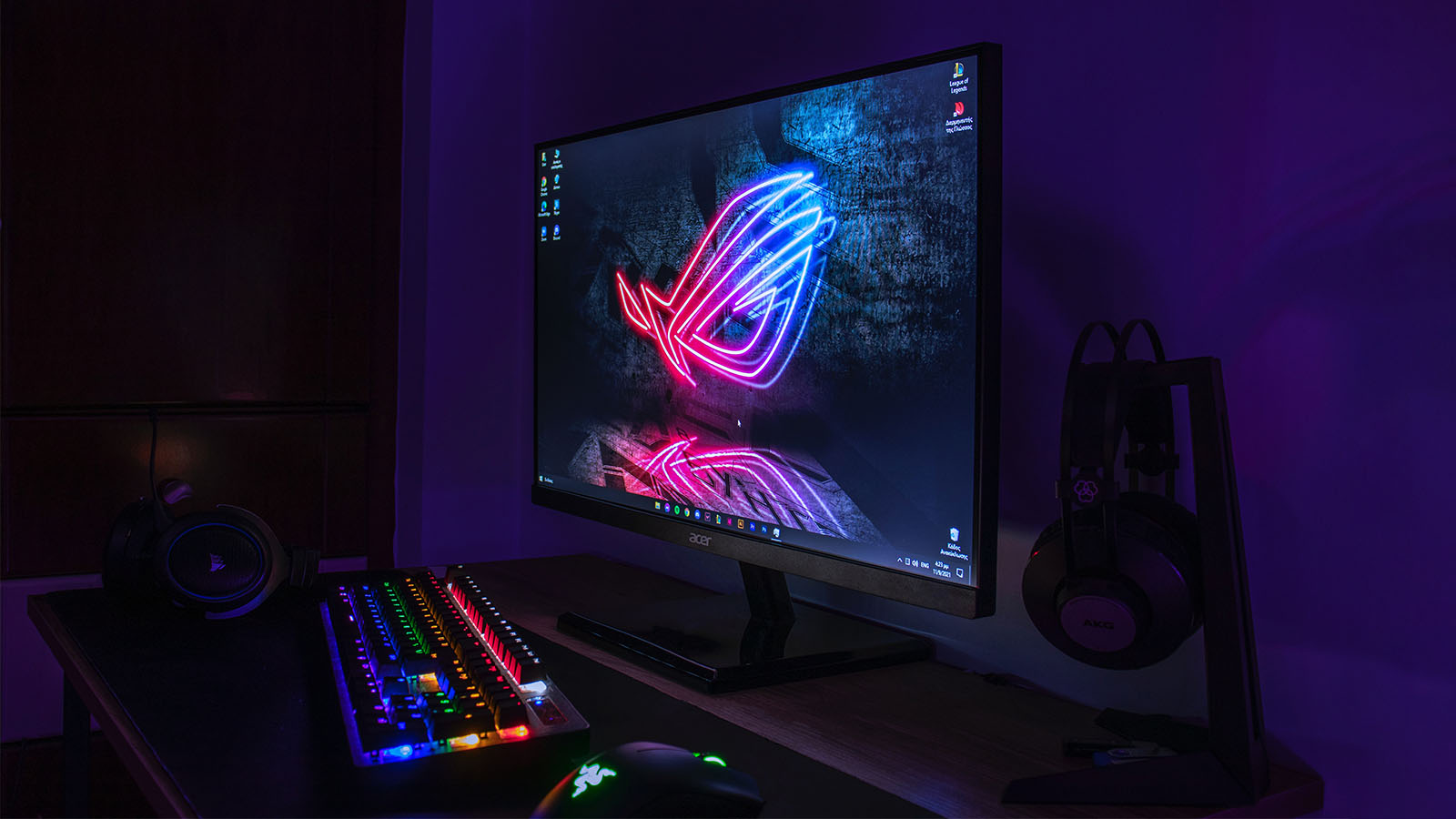 AMD's 5000-series GPUs didn't leave a lasting impression, so we're glad to see that the current generation marks a return to form for Team Red. The RX 6700 XT is a fine example. It rivals last generation's RTX 2080Ti while firmly positioning itself as a current frontrunner for mid-tier 1440p gaming and beyond. What's the best monitor for RX 6700 XT? That depends on your preferences and use case. Whatever they may be, we've got displays aplenty to have all your bases covered!
Best High-End 4K Monitor: Gigabyte M32U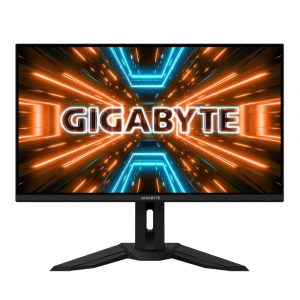 The RX 6700 XT might not boast the raw power of its more expensive siblings, but it's still good enough to run competitive games or Doom Eternal in 4K at 3-digit framerates. You can't go wrong with Gigabyte's M32U if you're hankering for some smooth 4K fps action and also want to invest in an outstanding futureproof monitor today.
Alternatively, you could go for the smaller yet no less impressive LG 27GP950-B from LG.
Despite a host of specialized features we'll get to shortly, one would never peg the M32U for a gaming monitor just by looking at it. The display is devoid of frills like RGB lighting or weird shapes you'd usually associate with gaming appeal. Rather, it has a subdued back with a rough texture on the bottom and a glossy one on top.
The W-shaped stand is sturdy and has a large hole in the middle for cable routing. It's not as ergonomic as some of our other entries since you can't reorient the screen. Pivoting, height adjustments, and rotating left or right work like a charm, though.
The back I/O is a standard modern mix of display and peripheral ports. You get DisplayPort 1.4 and three HDMI 2.1 connections along with a headphone jack and five USB ports. One of them is an upstream USB-B connection, and one is USB-C. The M32U also utilizes a KVM switch to toggle between multiple input sources.
Gigabyte did a fine job organizing the on-screen display. The plentiful options are grouped logically, and it's easy to find a preset for a specific genre you play the most. Other gaming options include a crosshair, local dimming for better contrast, and an aiming assist mode that lessens blur.
The M32U uses a 32-inch IPS panel with decent contrast, considering the technology's limitations. Color-wise, it covers 88% of the DCI-P3 gamut and overshoots sRGB by 25-30%, depending on the mode you're using. Calibration is mostly on point, although the colors initially have a slightly warm tint to them.
You can take full advantage of the M32U's 144Hz refresh rate in fast-paced games due to commendably speedy response times and almost no input lag. There's some blur with overdrive off, but setting it to Picture Quality mode visibly remedies this without jeopardizing your reaction ability.
Apart from costing a pretty penny, the M32U's only drawbacks concern limitations inherent to IPS technology. It's nowhere near as adept at displaying deep black colors as VA or OLED panels. That also leads to so-so black uniformity, which is especially apparent when otherwise dark scenes get lit up with a localized light source. Still, all of these take a backseat to the M32U's other qualities.
Best Budget 4K Monitor: Asus TUF Gaming VG289Q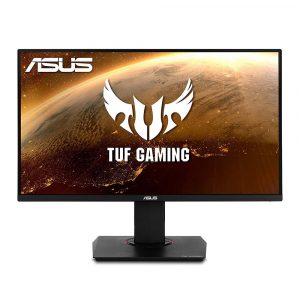 Do you care more about detail & immersion than insane framerates? In that case, you can get away with an excellent 4K gaming monitor and spend barely more than $300 on it. The TUF Gaming VG289Q is a vibrant and accessible IPS display that's not as responsive as most but pulls the 4K gaming experience off admirably even so.
If you're using the RX 6700 XT more for creative purposes, you should check out the Dell S2722QC too.
While budgetary constraints prevented ASUS from blinging the VG289Q out, it still has more of a gaming aesthetic than Gigabyte's model. You'll notice this primarily on the sharp-angled decorations in the back, which conveniently don't matter if you intend to use this monitor for office work as well.
Outstanding adjustability is the VG289Q's first positive trait. Its base and upright are solid, allowing for almost six inches of height adjustment along with tilt, swivel, and pivot to portrait mode. There's no cable management, though, and the port selection is sparse. DisplayPort 1.2 and two HDMI 2.0 connections serve as video outs.
You get neither a KVM switch nor USB inputs, but you can still hook your headset up without accessing the case. ASUS wants you to use more VG289Q in tandem and has included a handy alignment guide inside the OSD. Speaking of, the breadth of options found there is at odds with the monitor's price. You get everything from picture presets to gaming staples like an FPS counter and timer.
A maximum of 60fps might not be the go-to gaming standard anymore, but it suits the RX 6700 XT's 4K capabilities perfectly. You're losing out on the responsiveness and reduction in input lag a higher refresh rate brings as a result. However, that shouldn't be an issue if you're in the VG289Q's intended audience – gamers who prefer immersive single-player experiences that don't require constant vigilance and honed reflexes.
The IPS panel at the monitor's core is decently bright at 350 nits and can go as low as 50. There's not much benefit to engaging HDR mode as its peak brightness isn't high enough. Still, you might see an increase in contrast in games that support it.
Color accuracy is high by default, so you don't have to manually adjust the RGB levels if you're not a perfectionist. The IPS panel encompasses more than 100% of sRGB and around 80% of DCI-P3. While that's not as vibrant as the competition, it doesn't need to be due to a lack of focus on HDR content.
Best High-End 1440p Monitor: Samsung Odyssey G7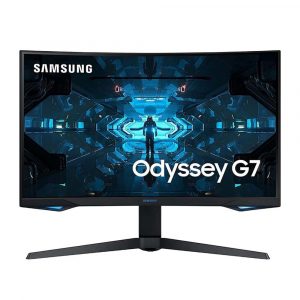 Dropping down to 1440p sees the RX 6700 XT hit its stride. So much so that we're comfortable recommending a 240Hz gaming display from Samsung as the ultimate pairing. You'll be able to hit such lofty framerates only in select titles. Still, the screen's excellent color quality & coverage make it a great choice regardless of speed.
The ASUS ROG Swift PG279QM is the G7's closest competitor and an excellent alternative if you don't care much for curved screens.
Finally, a gaming monitor that looks the part! Samsung had no qualms about outfitting the G7 with a plethora of gaming features. Aggressively curving the 32" VA panel adds much to the aesthetic while helping with the technology's mediocre viewing angles. There's also ample RGB in two triangles on the bottom edges and a colorful ring in the back.
The upright is a bit more rigid than on ASUS's 4K monitor yet offers a decent motion range. You may even orient the G7 into portrait mode – unusual for a curved monitor. Its ports are on the right side of disappointing since there's no USB-C. Luckily, you get three USB-A ports, an analog audio jack, two DisplayPort 1.4, and one HDMI 2.0 out.
The G7 covers a wide color gamut – more than 90% of DCI-P3 if you're inclined to enjoy HDR content. It's among the weakest displays on the list when it comes to factory calibration. Color values and gamma are off, while temperatures skew visibly towards the warm end of the spectrum. Only a few tweaks are enough to bring these to perfection, however, so this is not a lasting concern.
Excellent contrast is among VA's strongest features. The G7 sports four times as much as your standard IPS panel! While that's still not on the level of upcoming OLED monitors, you can expect more nuances in dark areas and less detail loss if there's lots of contrast on the screen.
Gamers will love the G7 for its exceptional responsiveness and lack of blur. Having to use different overdrive modes at different refresh rates to achieve the best results is common for modern displays. However, keeping the G7 at Adaptive Sync provides the best picture quality throughout its considerable range.
We're also fans of Samsung's intuitive OSD. Stats like the refresh rate and Adaptive Sync status are always highlighted and easy to keep track of. The menus are colorful and straightforward to navigate. You access them via a joystick conveniently located under the bottom bezel. It's possible to customize the lighting, make minute changes to the picture, or activate gaming tools like crosshairs or fps counters.
The G7's maximum sustained brightness reaches around 330 nits and barely changes if you turn HDR on, so don't bother. It bottoms out at 60 nits, which is excellent for dark rooms. The gray and black uniformities are decent. Only the G7's viewing angles leave much to be desired, but you'll be looking at it directly most of the time anyway.
Best Budget 1440p Monitor: GIGABYTE M27Q-P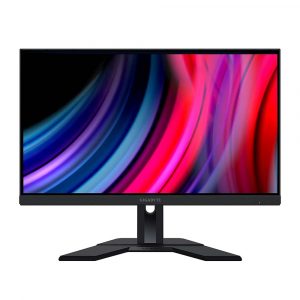 Our second Gigabyte recommendation is a welcome refresh of an old favorite. The M27Q was an affordable entry into seamless 1440p gaming, while the P version brings upgrades to the refresh rate, brightness, and color coverage. It's also more expensive, but the price difference is worth it.
Dell's S2721DGF sits between the two M27Q generations price-wise and is a solid alternative to either.
There's little to say about the M27Q-P since it's practically identical to the old monitor and very similar to the M32U. The bottom bezel is a bit thicker, while the stand, cable management, and ergonomics remain the same. We like the stealthy look, doubly so since Gigabyte directed the savings towards improving core specs.
The port selection consists of DisplayPort 1.4 and two HDMI 2.0 video outs, a headphone jack, USB-C, and a couple of USB-A ports. This is a 165Hz IPS display overclockable by another 5Hz in the OSD, so you'll want to use DisplayPort to get the full effect. The KVM switch is a great addition at this price point.
The switch to an LG panel is responsible for most of the M27Q-P's improvements. The new panel is the most colorful so far, covering almost the entire DCI-P3 space. sRGB content gets oversaturated by default, so you'll have to clamp the gamut down to conform to the narrower standard when enjoying such content. The monitor is calibrated well, with only a few discrepancies in gamma you can easily resolve from its menus.
The OSD is more or less the same as on the M32U, so we won't repeat ourselves. Checking the M27Q-P's response times is far more interesting since its new panel is a clear step up. You'll need to switch between the provided overdrive modes based on the refresh rate if you want to maintain a picture free from blur and ghosting, though. Balanced is your go-to for the highest refresh rates, while Picture Quality maintains comparable results as the refresh rate starts to dip into double digits.
Text clarity has also received a substantial update. The old panel used a BGR orientation instead of the standard RGB. That makes text harder to read unless you fiddle extensively with ClearType, which you thankfully won't need to do anymore.
The M27Q-P is also our brightest display yet, clocking in at more than 400 nits. There's barely any change when HDR is on since the HDR 400 standard is a marketing gimmick more than anything. The contrast is standard for an IPS monitor, meaning that things look fine when it's displaying dynamic content while blacks look gray at the best of times. The lowest brightness is 100 nits, which might be too much for people who mainly use their monitor in the dark.
Best Ultrawide 1440p Monitor: AOC CU34G2X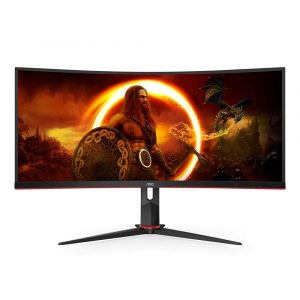 Ultrawide monitors are the next best thing to VR if you're looking to truly immerse yourself in a gaming world. They're especially advantageous for racing & flight sim fans, but any modern game you put on one looks special AOC's CU34G2X is our pick for the category since it balances color accuracy, curvature, inputs, and contrast well. It's not too expensive either, which only sweetens the deal.
Gigabyte's G34WQC is another 34" VA panel to look into if you're after a subdued look and a more ergonomic stand.
AOC made sure the CU34G2X proudly displays its gaming allegiance without being too much of an eyesore. Chief among its related visuals are the bright V shapes found in the back, along with accents on the bottom bezel and base. The display's curve is evident but not as pronounced as on the G7. You can't rotate the screen into portrait mode, but other adjustments will let you effectively bypass VA's viewing angle issues.
We don't usually comment on accessories as they're sparse these days. However, AOC deserves kudos for including cables for both HDMI 2.0 and DisplayPort 1.4. You even get a USB-C cord! A headphone jack & four more USB ports complete the selection. We also welcome the presence of a KVM switch.
The controls on the CU34G2X could use some work. Almost everyone uses joysticks now, so reverting to buttons – and small ones at that – feels like a downgrade. These don't impact the OSD's precise layout and easily accessible calibration controls in any way. You'll want to take advantage of those since the monitor's grayscale reproduction is slightly off by default. We also appreciate the low blue light mode for those late-night reading sessions.
The CU34G2X's color reproduction capabilities are solid if unremarkable. Its DCI-P3 coverage is around 85%, and you can avoid oversaturation of sRGB content by switching to the corresponding mode. Many monitors that utilize this mode don't let you change the brightness when using it for some reason, so it's great that this one does.
Monitors like the M32U and G7 pull ahead when measuring response times. While they might theoretically let you react a fraction of a second sooner, only hardened pros will be able to tell the difference. There's some blurring even when you turn on the preferred Medium overdrive setting, but it's not too pronounced. Input lag is among the lowest on the list.
Lack of brightness is the CU34G2X's only major stumbling block. It can put out just over 260 nits, which might not be enough for daytime use in brightly-lit environments. Even though it handles HDR inputs normally, AOC doesn't advertise the CU34G2X as being HDR-capable. Smart move, since HDR content has no impact on the screen brightness.
Best Budget High Refresh Rate Monitor: ViewSonic OMNI XG2431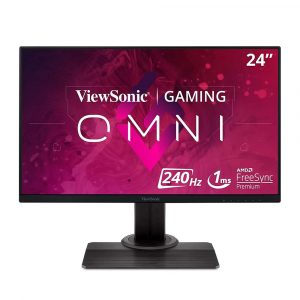 Want your RX 6700 XT to soar towards the fps heavens? Then fire up Overwatch or Valorant on the OMNI XG2431 from ViewSonic & experience the ultimate in buttery smoothness! It trades size and wide color gamuts in for superb responsiveness and excellent blur reduction. This is the monitor you should get if you're serious about pursuing competitive gaming, and it won't even set you back $300.
Direct competition comes from the ASUS TUF Gaming VG279QM. Pick it up instead if you want a larger screen at the cost of pixel density.
The XG2431 continues the trend of inconspicuous monitors that pack quite the gaming punch. It's made from plastic and has a metal-reinforced base colored gunmetal gray. The range of movement that thing brings is impressive, allowing you to reposition or rotate the screen to your liking. A ring in the back works well for cable management. There's even a handle on the upright's top that makes it convenient to lift the monitor up & relocate it to your next tournament.
The I/O is built for convenience and reasonably versatile. There's no USB-C, but you do get two USB-A downstream ports and a 3.5mm jack for your peripherals. You may connect the XG2431 through DisplayPort 1.2 or HDMI 2.0, both of which can put out the maximum 240Hz refresh rate.
ViewSonic had to make the screen smaller to maintain a reasonable pixel-per-inch value. You might be getting a 24″ IPS panel as a result, but it's among the best out there. Gone are the days of TN's high refresh rate dominance! Now you can enjoy almost perfect viewing angles and completely saturated sRGB content while taking games in at 200+ frames per second. The color gamut doesn't extend past sRGB, but that doesn't really matter for this type of monitor anyway.
Minimizing response times and input lag does matter, and that's where the XG2431 excels. It reaches an excellent 7ms combined response time and less than 3ms of input lag, which puts it ahead of the G7! Even more impressive is the fact that you can use backlight strobing to significantly reduce the amount of blur and ghosting without losing much brightness since the refresh rate is so high.
Speaking of brightness, the XG2431 continues to surprise with around 340 nits in SDR mode. The colors in HDR might not get more vivid, but the XG2431 has one of the better entry-level HDR contrasts and goes up to a respectable 500 nits when it detects such content.
The OSD is old-fashioned, and we mean that as a compliment. Each category is clearly labeled, prompting faster navigation. It's possible to tweak everything except the gamma. The picture might be a tad too bright regardless of your other changes as a result. You'll at least want to tone down the blues since the XG2431's picture is on the cool side at first.
Frequently Asked Questions
Is an RX 6700 XT good for 1440p? Can it do 4K?
Yes, and yes! The RX 6700 XT is an outstanding card for 1440p and works very well in 4K with few caveats. Let's take two games at the opposite ends of the hardware challenge level spectrum to demonstrate.
Red Dead Redemption 2 continues to be one of the most challenging games to run on PC. The RX 6700 XT manages to exceed the 60fps threshold at 1440p required for a smooth experience. And that's with everything set to the highest possible details. Conversely, Doom Eternal's exceptional optimization sees it reach triple digits in 4K, with the possibility of surpassing the 144Hz mark with a few downgrades.
So, while it's better suited for 1440p, the RX 6700 XT can compete at any modern resolution tier and stay relevant for a while yet.
Which Radeon 6700 XT is the best?
That depends on what factor matters to you the most. All major manufacturers overclock their models past the factory standard, so each will come with a single-digit performance uplift. The differences become more apparent when you account for temperatures, noise output, and cost.
The Strix OC from ASUS is the coolest and among the quietest versions but costs the most. Powercolor's Red Devil and XFX's Merc cards are whisper-quiet yet not nearly as thermally efficient. You'll want to take a look at the most popular models and their reviews as well as keep an eye on current prices to end up with the best one.
How good is the RX 6700 XT with raytracing?
The 6000-series is AMD's first GPU generation to integrate raytracing technology. NVIDIA's generational head start is evident since Team Green's GPUs do considerably better. The good news is that this currently doesn't matter and will continue not to matter for the foreseeable future.
Game developers have barely scratched the raytracing surface. Its implementation in games as recent as the new Saints Row is cosmetic at best. There's no denying that real-time light generation will transform the visual fidelity of games in the future, but rasterized graphics is still king – and the RX 6700 XT is pretty good at it.