6 Best Monitors for RX 6800 XT in 2023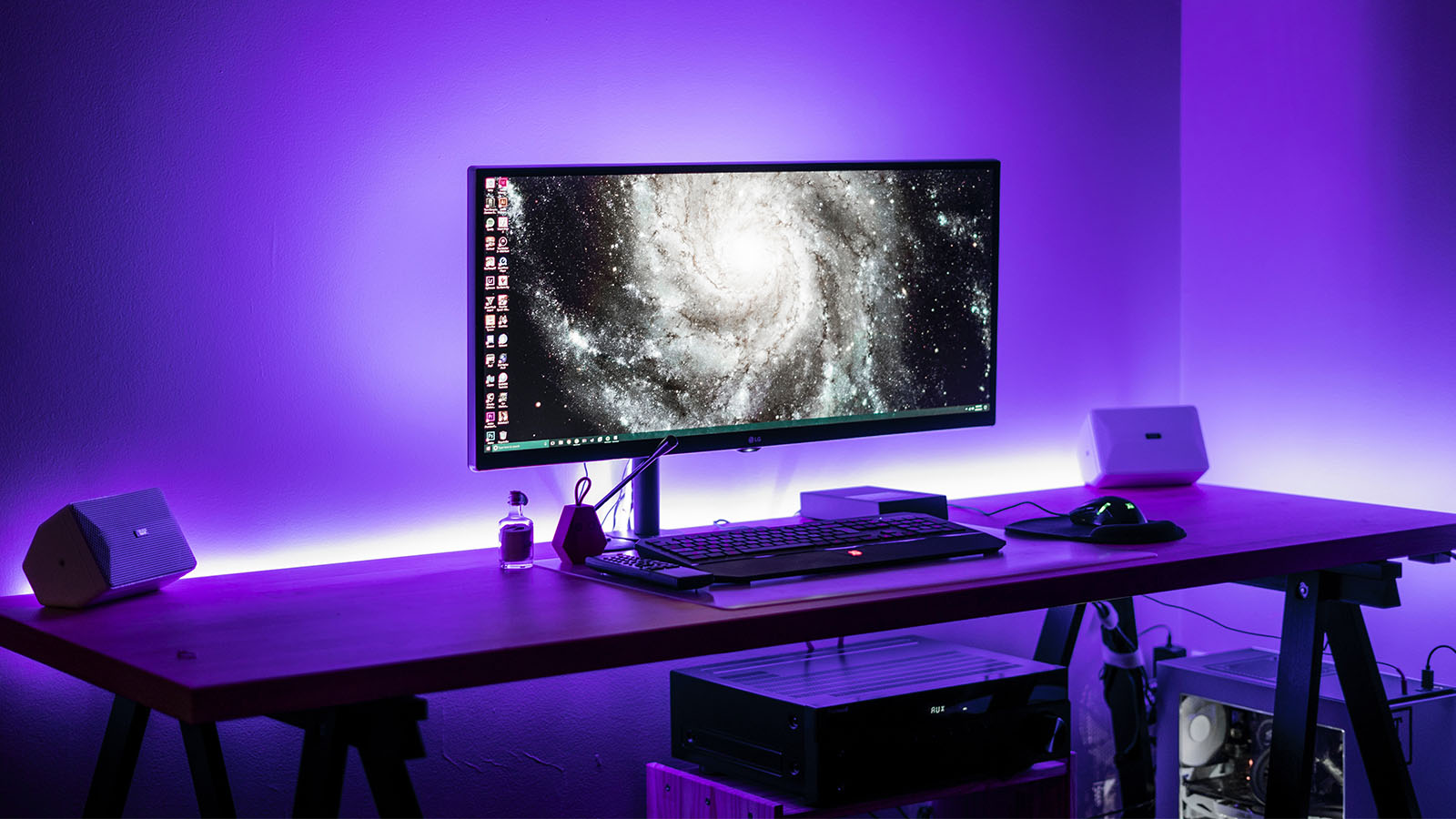 The RX 6800 XT is AMD's resounding answer to NVIDIA's uncontested high-end. It offers excellent gaming performance regardless of resolution and has recently become less expensive than MSRP. Such a versatile card works well with a wide variety of displays, so we've put together a list of the best monitors for RX 6800 XT to clear up confusion and set you off on your gaming journey faster.
Best High-End 4K monitor: Dell G3223Q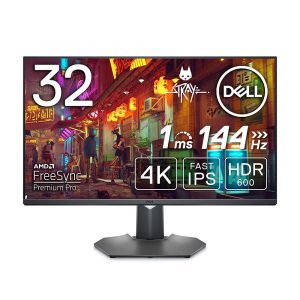 The RX 6800 XT AMD's return to the high-end GPU space, so naturally you'd want to pair it with a display that can take full advantage. The G3223Q is one such monitor, combining exceptional color fidelity and even better response times with a great UI and solid brightness. While there are more expensive models that can do one or two things better, you'd be hard-pressed to find a more well-rounded 4K contender.
The MSI Optix MPG321UR QD is another of our top-end favorites. It's more expensive, but the quantum dot technology and its boost to color accuracy may entice you to cover the difference.
A front-facing G3223Q is an attractive, if unassuming, monitor with a dark gray color and pleasantly thin bezels. Its base is angular and wide, with a convenient hole in the upright to run cables through. You can adjust the height by four inches, swivel, and tilt, but there's no portrait mode option.
Turning the G3223Q around reveals much more of its gaming nature. A trapezoidal strip of blue LEDs is impossible to miss and luckily doesn't glow too brightly in dim rooms. A joystick and four buttons take care of OSD navigation. You can remap three of the buttons for quick access to favorite settings.
All of the G3223Q's inputs reside on the underside of the bezel. It comes with one DisplayPort 1.4 and two HDMI 2.1 connections along with a headphone jack. USB-C isn't present, and neither is a KVM switch. Even so, you can connect your peripherals through two USB-A ports.
The IPS panel this monitor is graced with is among the finest we've seen. You could be blasting cultists one moment and grading some photos the next due to its 92% coverage of DCI-P3. We often find settings to nitpick over regarding picture calibration. The G3223Q is one of the few monitors you never need to adjust, regardless of the mode.
And modes there are aplenty – 12 to be exact. They're easy to access thanks to the no-nonsense OSD. We love how switching to Creator mode lets you toggle between the DCI-P3 and sRGB gamuts and adjust the gamma for each separately. There's also a Console mode that limits the refresh rate to 120Hz and has separate gamma & color adjustment options.
Gamers will love the G3223Q's low input lag and response times. Monitor manufacturers advertise 1ms gray-to-gray response times, but only OLED TVs can match such speeds without serious ghosting issues. The G3223Q can theoretically achieve it too, but the mode is unusable. You'll want to engage the Fast overdrive mode to experience an almost instantaneous response while keeping blur at bay.
The screen is among the brightest on our list, coming in at 430 nits. The HDR implementation isn't terrible either since the G3223Q can reach 600 nits when displaying HDR content. That significantly ups the contrast even though local dimming isn't among the monitor's strengths.
Best Budget 4K Monitor: ASUS TUF Gaming VG289Q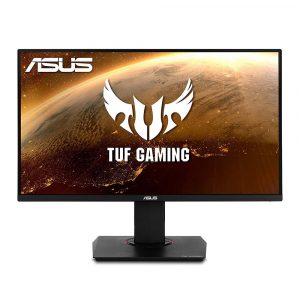 Are you more enamored with our winner's stunning resolution than its speedy response times? In that case, you can get a worthy alternative from ASUS for as little as $300 while it's on sale! The VG289Q is an excellent choice for gamers who prefer story-driven titles or RPGs where immersing yourself or learning the system is more important than reflexes. As such and combined with that RX 6800 XT, this monitor is bound to stay relevant for a while.
The Dell S2722QC is another 27" 4K monitor to check out, especially if you also use your PC for creative purposes frequently.
ASUS didn't skimp on the VG289Q's gaming details. The price prohibits RGB implementation, but several aggressive lines in the back fill in the gap along with interesting texturing. The bezels are thin, and an alignment feature you can find in the OSD helps align multiple screens. Since it's so cheap, getting more than one sounds tempting.
This is one of the most ergonomic monitors out there, thanks to an excellent base. It allows for six inches of height adjustments along with tilt and swivel. Portrait mode is supported too! Regardless of orientation, the handful of ports are easy to reach. That is where the VG289Q shows its price class since you only get DisplayPort 1.2, two HDMI 2.0 ports, and a headphone jack.
The OSD is clean and easy to navigate, with icons on the left representing logically grouped settings. You get to select several picture modes, adjust color presets, or use gaming features like black level boosting, timers, or a built-in crosshair. The monitor has a dynamic contrast feature that subtly adds depth to whatever is currently displayed.
The VG289Q has a 28-inch 4K display with excellent pixel density. It's not as vibrant as some other monitors, only encompassing around 80% of the DCI-P3 gamut. Even that is enough to oversaturate some areas of sRGB, so you're still good for the vast majority of content. If some colors do appear garish, you can always rein them in with the sRGB clamp.
The elephant in the room is the VG289Q's 60Hz refresh rate. While maintaining a steady 60Hz makes for a smoother experience than 100+ Hz with frequent dips, some gamers might find it insufficient. Such a low refresh rate also negatively impacts lag and response times, which are satisfactory for regular use but unacceptable for competitive gaming.
Getting back to the VG289Q's strengths, we see generally decent factory calibrating with a hint of warmness & red tendencies you can neutralize with ease. The max brightness reaches 360 nits, so the monitor is good enough for moderately lit environments. HDR is nominally there but contributes barely anything since the screen doesn't get brighter in the corresponding mode.
Best Curved 4K Monitor: Gigabyte M32UC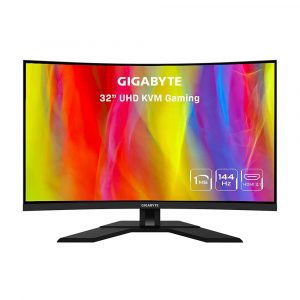 The monitors we've examined so far all had IPS panels, which suffer from relatively low contrast despite having great colors & viewing angles. VA is the equally inexpensive alternative to turn to if you're after deeper blacks. The M32UC from Gigabyte is a fine specimen that uses it. The monitor is curved to combat VA's poor viewing angles and excels in all other areas important to gamers & creatives alike.
Samsung's Odyssey G7 is another curved monitor to consider. It is a step down in resolution but ups the refresh rate to 240Hz. That, coupled with excellent gaming-related atrributes, makes it a compelling alternative.
Despite having a curved display, the M32UC's appearance is tame for a gaming monitor. The curvature is visible but less aggressive than on most alternatives, so you'll quickly get used to it if you're transitioning from a flat screen. The base is broad and accommodates peripherals well. Sadly, it's not that ergonomic since adjusting the height and tilting are the only motions it can perform.
Conversely, a whole lot is going on in the back. Other than another trapezoidal design, you get a slew of useful ports. The HDMI & DisplayPort connections are state-of-the-art. Five USB ports accompany them, one being upstream and another USB-C. Gigabyte included a KVM switch gamers who often shift between their PC and consoles or mobile devices will appreciate.
There's not much to say about the OSD other than it's functional and accessible. It comes with the most common picture presets, sRGB mode being the most color accurate by default. There's an FPS counter and a timer, while shooter fans get to take advantage of several high-contrast built-in crosshairs.
You'll want to spend some time tinkering with the M32UC's picture settings to have it look its best. While there's potential for excellence, the colors are inaccurate and visibly skewed towards colder hues at first. Their vibrancy is unquestioned, however. Statements and results vary, but Rtings has it at 85% of DCI-P3.
The M32UC sets its sights high, which is evident if you take a look at its refresh rate specs. The 144Hz limit is nominal since you can overclock it by another 16. Moreover, it's compatible with Freesync and G-sync, albeit unofficially for the latter. Input lag and response times are only slightly worse than on Dell's monitor, positioning the M32UC firmly within competitive territory.
The brightness in SDR mode is excellent – around 500 nits. The VA panel has almost three times the contrast of IPS alternatives and comes into its own at such bright settings. An HDR mode does exist, but it neither makes the picture brighter nor lifts the already high brightness ceiling.
Best High-End 1440p Monitor: MSI Optix MAG274QRF-QD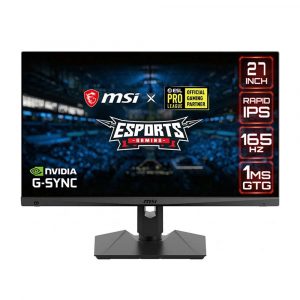 While it can deliver three-digit performance in 4K, the RX 6800 XT is best suited as a 1440p GPU. We've already recommended the excellent Odyssey G7 as a curved monitor alternative, so let's turn to another 1440p monitor we wouldn't hesitate to buy – the Optix MAG274QRF-QD from MSI. Quantum Dot technology affords it one of the most colorful displays on the planet, and its gaming capabilities are nothing to sneeze at either.
Fans of over-the-top aesthetics in PC gaming will adore this monitor. It looks tame enough from upfront, its thin bezels offering any hint of a gaming provenance. Turn it around, and the MAG274QRF-QD dazzles with an explosion of edgy lines & bright lights. The OSD offers basic lighting customization, but it's more fun to download MSI's companion software and sync the lights with your peripherals.
You'd think such a design would limit ergonomics, but MSI's monitor actually has one of the most versatile stands. Its swivel & tilt ranges are broad, and you can rotate it 90° to either side.
We're fans of MSI's approach to OSD design. While the red in its red & gray scheme is a bit garish, it's nice to see all the relevant info on its current modes lined up on top. Less involved users will find satisfaction with a handful of picture presets. Others will want to use the extensive color & gamma adjustment options to achieve the best results.
Those obsessed with achieving the most neutral tones will need to spruce the picture up as it's far too cool from the get-go. Doing so is a one-time thing and takes a couple of minutes.
Breadth of color is the MAG274QRF-QD's signature feature. Quantum dots significantly open up its range, allowing the 165Hz IPS panel to cover the entirety of Adobe RGB! This standard offers much more color than standard sRGB and is adequate for professional photo or video grading. The only downside is that there's no real sRGB clamp mode. SDR content might appear oversaturated to some.
On the gaming front, the Optix monitor passes with flying colors. Its response time at the best overdrive setting is short of 7ms, while input lag is as low as it gets. The monitor also has an excellent backlight strobing feature that inserts a black frame between regular ones & significantly reduces blur. Turning it on cuts brightness down to around 150 nits and disables frame syncing, so your mileage may vary.
The monitor isn't bright to begin with, reaching a max of 350 nits. As was the case with some models above, it has a lackluster HDR implementation. There's no local dimming, so any benefits you would expect from better contrast are absent. Brightness remains the same, giving you one less reason to bother with HDR in the first place.
Best Budget 1440p Monitor: Gigabyte M34WQ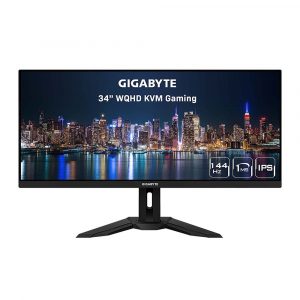 Gigabyte's encore is not just an affordable 1440p monitor, but an outstanding ultrawide one at that. It's unusual in that the screen is flat, making the M34WQ a good choice for people who create as well as game & rely on the straightness of lines. Add great response times & even better color coverage, and you've got a monitor that punches above its weight class.
Not a fan of the ultrawide format? Then you should check out another Gigabyte model, the M27Q. It's considerably cheaper and somewhat smaller but doesn't compromise on overall quality.
Gigabyte's recent monitors adopt a uniform design regardless of aspect ratio. It's an inoffensive mix of glossy & textured plastic with a handful of accents and a stout base that looks equally nice on desks inside office rooms & gaming dens. The upright is sturdy and covers a decent range of movement. Portrait mode is absent, understandably.
There's no shortage of ports on the M34WQ's back. Most of them are modern as only the two HDMI outs adopt the 2.0 standard. Gigabyte's KVM switch makes a welcome comeback, and the joystick close to it allows for easier navigation of the OSD menu.
The menu's layout is similar to the M32UC's, with a handful of model-specific changes. Competitive shooter lovers will get a kick out of Eagle Eye, a feature that zooms into the part of the picture around the crosshair to give you a slight edge. There's also an fps counter, timer, and crosshairs on top of a comprehensive list of picture adjustments.
The M34WQ's color fidelity is more than serviceable. It can display 88% of the DCI-P3 gamut, which is good enough to accurately view HDR content. Better yet, there's an effective SDR mode that allows you to calibrate the monitor based on SDR's limitations. Not that you'll need to do much since the factory presets are fairly accurate.
Response time testing establishes the M34WQ as a competent 1440p gaming monitor. The only problem is that you'll have to toggle between the Picture Quality and Balanced overdrive modes. The right setting depends on the current refresh rate if you want the best ratio between responsiveness and blur reduction.
A 34″ monitor with a 21:9 aspect ratio is great for gaming and productivity, allowing you to keep an eye on several large windows at once. The picture is as straight as on any conventional display, thanks to the flat panel and IPS' renowned viewing angles. A peak brightness of 380 nits isn't disappointing either, especially since the M34WQ has good contrast for its type. It shouldn't be surprising by now that the HDR implementation is lackluster since it's limited to HDR 400.
Best High Refresh Rate Monitor: Acer Predator X25 bmiiprzx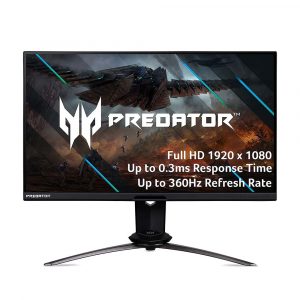 We've seen how the RX 6800 XT holds up well when rendering at today's highest resolutions. It's equally adept at producing insane framerates in 1080p. The X25 bmiiprzx is the ideal monitor to let it stretch its wings in that direction. It's smaller in size and not as colorful as our other picks. However, this predator's one-track mind positions it at the top of the competitive monitor food chain.
Do you like ridiculous framerates but could go with something considerably cheaper? Then get the ASUS TUF Gaming VG279QM instead. Its refresh rate is only 80Hz lower, and you get more screen real estate to compensate.
Acer proclaims the X25's singular gaming purpose loud & proud with bold styling. Three of its bezels are so thin as to appear invisible, while the back is home to intricate patterns and a large LED strip. The OSD alone has enough presets to satisfy most gamers. However, installing Light Sense allows for seamless color coordination with Acer peripherals.
Build quality is on a level you'd expect from a monitor this expensive. The mix of metal & plastic exudes sturdiness and barely flexes. The bottom bezel also hides an unusual ambient light sensor that you can leverage to adjust brightness levels and color hues automatically . While some users might find it handy, the changes it can introduce in some environments might be off-putting.
The OSD is clearly labeled and brimming with relevant features. For example, you can adjust the brightness in nits rather than percentage values, boost darks, or limit blue light for less strenuous reading. This is another monitor with cool out-of-the-box color tendencies, so fine-tuning is in order and produces excellent results.
The X25 bmiiprzx is hyper-focused on speed over everything else. Resolution was the first casualty, so you're stuck with 1080p and a smaller screen, albeit with good pixel density. Vividness also took a hit as the display only supports sRGB. The color space is covered entirely, so you won't miss out on anything when playing games or viewing 1080p content.
The trade-in is worth it as the X25 is among only a handful of monitors that can put out 360Hz. Even your 6800 XT won't be enough to run modern AAA titles at framerates approaching their maximum. However, optimized games like LoL, Rocket League, Valorant, or Overwatch will simply fly without you having to tank their visual quality.
With insane framerates come some of the best response times ever measured on a gaming monitor. The combination of instantaneous feedback and unprecedented frame smoothness gives players with honed reflexes that precious moment of preparation needed to turn a situation in one's favor. Input lag is negligible as well. Moreover, the monitor comes with built-in support for the NVIDIA Latency Analyzer. While a bit gimmicky, this tool allows you to plug your mouse into a designated USB port and receive real-time data on its latency.
The X25 is a bright monitor with SDR peaks reaching 420 nits. Turning HDR on bumps the brightness up by another 20 nits and marginally improves contrast, so doing so isn't worth it.
Frequently Asked Questions
Can an RX 6800 XT run 1440p at 144Hz?
Absolutely! AMD designed the card to achieve excellent results and be futureproof at 1440p. It's easy to corroborate such claims by looking at some real-world testing. For example, the newest God of War title easily reaches triple digits at the highest possible settings, while games like Metro Exodus lag slightly behind.
Keep in mind that such testing is usually done at the highest possible settings you should reserve for screenshot taking anyway. Sliding some of the worst offenders back a bit will barely impact visual fidelity while allowing even the most demanding games to run noticeably smoother.
How many monitors can an RX 6800 XT support?
While that depends on the individual 3rd-party manufacturer, the answer is almost always four. Most 6800 XTs come with three DisplayPort 1.4 connections and one HDMI 2.1 port for the best framerates. Some aftermarket versions have two HDMI video outs instead and substitute one of the DisplayPorts with USB-C with passthrough.
What is the RX 6800 XT equivalent to? Is it good for 4K gaming?
The 10GB version of the RTX 3080 is the closest GPU from Team Green performance-wise. It's slightly faster than the 6800 XT at 1080p and almost equivalent at higher resolutions. Of course, NVIDIA's card delivers better raytracing results due to this being AMD's first go at the technology. It shouldn't matter in the short term, though.
As for 4K, the RX 6800 XT is perfectly capable of putting out enough framerates at 4K for a playable experience. Competitive and optimized games will regularly hit triple digits, while the rest usually remain far above the 60fps threshold. Even if some games don't, you can usually fix it by turning only a handful of details down from their max settings.